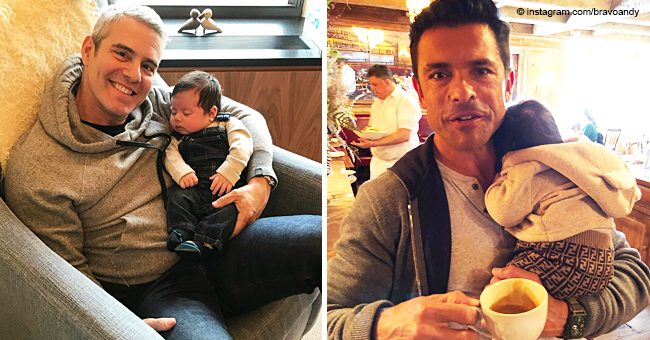 Andy Cohen's Son Shows off His $400 Fendi Pants and Melts Mark Consuelos' Heart
The television talk show host Andy Cohen posted an adorable picture of his son during an outing on Tuesday in cute mini designer pants that made him irresistible to Mark Consuelos.
Baby Benjamin Allen Cohen, whom Andy welcomed via surrogate on February 4, looked adorable in a beanie, a hoodie, and a pair of Fendi logo print pants as the two met with Mark for coffee.
Even before his birth, Andy got showered with gifts from friends and family alike in anticipation of Benjamin's arrival and eager to be part of this wonderful journey Andy chose.
John Mayer gifted the newborn a mini guitar while the "Real Housewives of New Jersey" cast gave him a miniature Mercedes-Benz G-Wagon. And by the looks of it, Benjamin's trendy wardrobe is just another way of the cutie getting spoiled.
"Kid stole my Heart… Ben is a straight up G with those pants," Mark commented on Andy's picture after their coffee date.
Mark's wife, Kelly Ripa couldn't help but comment as well, "Two #daddies, one baby, 1 pair of @fendi pants = heaven ❤️❤️❤️," she wrote.
Since Andy became a father, he admitted that his outlook on life changed, including some habits as he gave up on smoking marijuana for the time being.
Additionally, Andy's needs in a partner changed as well. "I think that I will probably be looking for different types of guys," he said. "I'll be looking for guys you want to bring home to Mom or bring home to your son."
But Andy didn't want to wait for the right partner to come around before he realized his dream of becoming a father, and while he is technically a single father, he is far from alone.
He has a baby nurse, who helps him with Benjamin and teaches him what he needs to know along the way, while Andy also has a lot of support from friends and "a swarm of women around who are ready to love this boy."
For a long time, Andy thought this period in his life would never come to pass as he came out of an era where views regarding same-sex relationships were far from what it is now.
The last few years saw a lot of positive changes towards the LGBT community and while Andy had many years to focus on his career and enjoy a more carefree lifestyle, the time came to make his dream a reality.
"I just realized that now was the time. From the time I decided, 'Okay, I'm doing this,' which was December 2017, for the entire year of 2018 I lived my life as though it was my last year on the planet," Andy said.
Andy won't completely give up on the occasional party but as a new father, "things are changing."
During an interview earlier this year Andy shared what being able to become a father meant to him and why he never thought parenthood "was in the cards" for him.
Please fill in your e-mail so we can share with you our top stories!