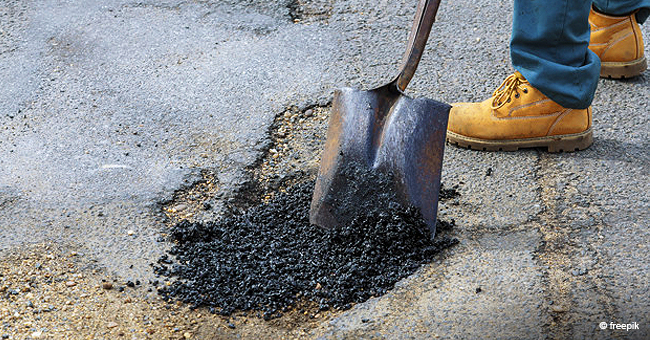 Video of 12-Year-Old Michigan Boy Fixing Potholes by Himself in His Neighborhood Goes Viral
The mother of a preteen boy from Michigan is extremely proud of her son who is proving that not everything that comes out of Muskegon Heights is bad.
Monte Scott, 12, surprised everyone including his own mother when he decided to fill in some potholes on his street.
Passers-by captured him on video and posted the clip to Facebook last Wednesday. It has since gone viral and can be found below.
Monte lives with family including his mother and grandmother on Maffett Street in Muskegon Heights, Michigan. The area not only has a bad reputation, but it also has horrible roads.
When asked why he decided to fill in the road with dirt packed in a garbage can from his own backyard, Monte reportedly said:
"I didn't want people messing up their cars like my mom did. If somebody were to drive down the street and hit a pothole, and then would have to pay like $600-700 to get their car fixed, they would be mad."
His mom Trinell was taken aback when her niece showed her the video on Facebook, but she said that it wasn't out of character for her thoughtful son.
She explained:
"He just took it upon himself to [fix the road]. That's just the type of kid he is. When he sees there's a problem or a need, and he thinks he can fix it, he'll try to fix it."
Monte filled in at least 15 potholes by the end of March. According to his WZZM-TV, he's hoping to get the whole street a bit smoother for the neighborhood.
In the video, a man behind the camera commended the young man and told him he's "gonna be something [because he's] a hard worker."
In the caption, Trinell explained that her son had a half day of school and used the extra time to do the work. She added, "I love my son. He has a heart of gold."
In March, Governor Whitmer put forward the idea that the state increases its gas tax by 45 cents to take care of road and bridge work. The last Winter was an especially bad one for roads in the area.
As shown in the comment section of the clip though, residents are extremely appreciative of Monte's efforts. The video was shared and liked more than a thousand times. Viewers commented over 200 times on it.
An even younger little girl also decided to help her community for free when she learned to cut hair professionally. Neijae Graham-Henries attended the Junior Barber Academy of North Philadelphia and her life changed after that.
Her mother, Jamie Graham, said that being the youngest, and the only female student did not intimidate her in the least. Her teacher, Michael Boone, made sure to tell Neijae the same things he would tell his older students.
Neijae began practicing and then, at just eight years old, she helped Michael's barber shop to give haircuts to between 300 to 400 children. Her mom is very proud of her daughter and said that she hopes Neijae keeps her focused and determined attitude as she grows older.
Please fill in your e-mail so we can share with you our top stories!