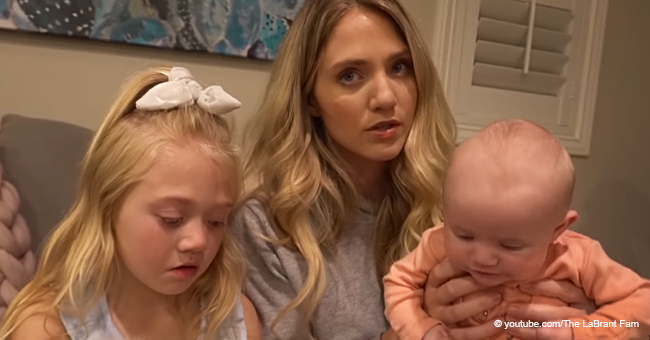 Parents' Cruel April Fool's Joke about Giving Away Daughter's Puppy Sparks Outrage
Popular YouTube couple, Cole and Savannah LaBrant landed themselves in the doghouse with fans after they told their daughter they have to give her dog away as an April Fool's joke.
The couple made a video one day ahead of April Fool's to wish their fans a fun day of pranks. The video showed an otherwise lazy Sunday for the LaBrant family in-between pranks they pulled on each other.
When Savannah put 6-year-old Everleigh's prank in motion, who at that time remained the only un-pranked member of the famous family, they thought she'd catch on.
Instead, she burst into tears while Savanna explained all the reasons why they had to give their Pomeranian, Charl away to someone else.
In the video titled, "We Have to Give Our Puppy Away, Saying Goodbye Forever," Savanna elaborated. "We feel like we can't take good enough care of him at our house," she added as they are often away from home, and busy with filming the times they are home.
Young Everleigh's eyes brimmed with tears as she held onto Charl, but eventually exclaimed, "We're keeping Carl!"
The video soon went viral and created quite a stir, with over 2.3 million views since they published it two days ago, they have additionally disabled comments following a surge of negative comments. Similar comments began to surface on twitter as one user commented, "That is mental child abuse, not a prank."
Right at the end of the video, Savannah chipped in before the video cut out and assured fans that little Everleigh was ok, the two even teamed up afterward to pull one last prank on Cole.
But if there is one family that can relate to the how far netizens are willing to go in order to get their thoughts across, it's the family from the former DaddyOFive channel on YouTube.
Their account on YouTube since got terminated for violation of terms of service and claim to have received death threats on account of the type of videos they posted.
Most of it contained what the family referred to as pranks, but contained abusive behavior encouraged upon and done by the parents with their five children.
Two years ago the couple posted an apologetic video where they said to have realized the harm they caused. The couple had also lost custody of their children.
Similarly, in another alleged case of child abuse currently headlining, old allegations against Michael Jackson for the sexual abuse of James Safechuck and Wade Robson renewed controversy after the documentary by Dan Reed premiered at the beginning of this year.
Where opinion had previously seemed to sway towards Michael's guilt, a biographer on the late King of Pop recently debunked critical elements in the case the two men made against the late singer.
Please fill in your e-mail so we can share with you our top stories!