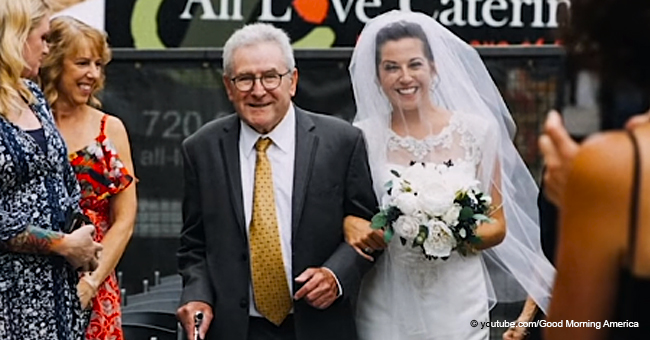 Previously Paralyzed Dad Surprises Daughter with First Dance on Her Wedding Day
Jim Stamp from Colorado gave his daughter the best gift at her wedding just by standing up and dancing with her without using any mobility device.
When Gina Ross, 30, finally got married, she was not planning on her father being able to participate fully in the father-daughter dance due to his rare illness.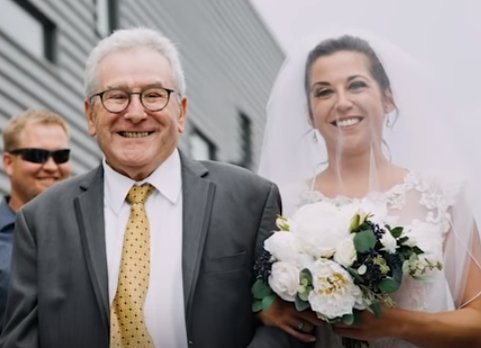 Jim Stamp with the bride, his daughter Gina. | Source: YouTube/GMA
In fact, all wedding plans had been put on hold when Jim Stamp, her seventy-year-old father, was diagnosed with Guillain-Barre Syndrome.
The disease, a rare autoimmune neurological disorder, typically attacks the peripheral nervous system located outside the brain and spinal cord.
Stamp had been rendered paralyzed and came home in a wheelchair after spending five months in the hospital. But a year later, Stamp had mastered using a cane and the wedding plans were back on track.
Jim Stamp walking daughter Gina down the aisle at her wedding. | Source: YouTube/GMA
His determination and grit forced him to attend therapy sessions several times a week with the sole purpose of getting rid of the cane before the big day.
While his daughter knew he was pushing himself hard in therapy, she did not know what his motivation was and she put no pressure on him to walk as long as he could still attend her wedding, saying:
"What I didn't know was that he was working extra hard to surprise me. I made it very clear to him that I did not care how he got me down the aisle or what our dance looked like. If it meant he was on a walker or in his chair, it didn't matter."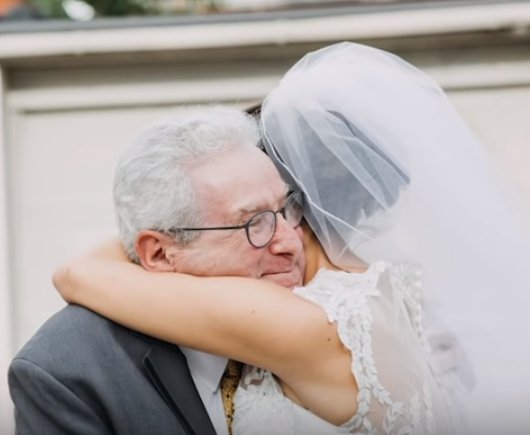 Jim Stamp receiving a hug from the bride, daughter Gina. | Source: YouTube/GMA
Stamp walked Gina down the aisle the following year using his cane, but he surprised her when he ditched the stick during their father-daughter dance. Gina revealed:
"He has always been my hero... [W]hile his illness was a frustrating setback it also showed me once again how absolutely strong and determined my dad is. Dancing with him at my wedding was a dream come true after everything that he went through."
The pair shared a sweet moment dancing to a fan favorite for weddings, "Unforgettable" by Natalie Cole and Nat King Cole, with Ross laughing, crying, and yelling "Really? Dad! No cane!"
The entire wedding party was emotional, with everyone overwhelmed at seeing Stamp on his feet, giving his daughter a proper send-off on the most important day of her life. Gina Ross said.
"He told me, 'I didn't want to tell you in case I couldn't make it happen, but I wanted to surprise you with this dance.'"
Please fill in your e-mail so we can share with you our top stories!