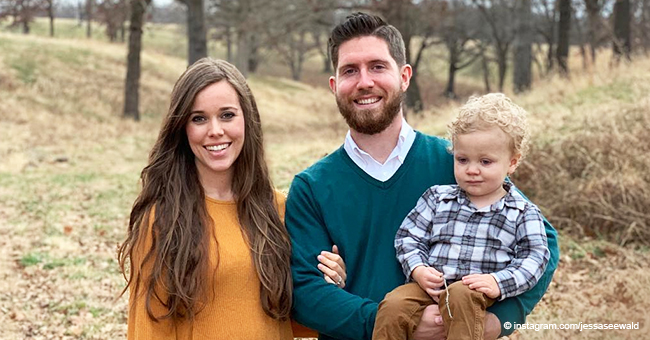 Pregnant Jessa Duggar Shows off Her Home's 'Minimalist' Makeover on a Budget
The young and talented TLC star, Jessa Duggar reveals via her posts on Instagram the affordable transformation she gave her home. The picture showed that her kids were not left out as they went shopping together, to get the supplies for the makeover.
The TLC star on 'Counting On,' is a mother of two boys, 3-year-old Spurgeon and 2-year-old Henry, and she's expecting her third child.
All hands were on deck, as her husband, Benjamin, helped in redefining the look of their house. The kids were not left out; they contributed their fair share by following their mom to shop for the paints, paintbrushes, and other things used in getting the job done.
The revamped home was exquisitely beautiful; she changed the colors on her living room walls from pale green to a brighter tone; she also painted her bedroom with a new color. She stated that she spent about $60, to get all that was needed.
The family accomplished the paintings after midnight. In a post where she captured a before and after look, she wrote:
"Decided on a whim, that I wanted to become more of a minimalist. Finished painting at 1 am, fear not, windows were open, and it was well ventilated".
The 26-year-old mom endeavored to do some selling too. She did away with the old furniture, chunky bed frame, nightstand lamps, by selling it on 'Facebook Marketplace.' Then she bought new items, like plants, a rug, and few throw pillows.
For her sons' room, she merely decongested it and moved their sliding to another part of the room. She confessed that she could not sell off the slide because she bought from a woman who wanted to dump it. The slide is also in good condition, and her kids love to play with it.
For the master's bedroom, she moved the rug from the living room, then she painted the drawers in the bedroom, and hung their honeymoon picture on the wall.
The whole idea of redefining her home made her happy, when she had finished, her caption on her post read:
"It may not be HGTV worthy, but it's the hub of our home, and we feel like it's a massive transformation. Loving the lighter colors, and having less in the room, and the fact that, by selling some things, we weren't out a penny, and made some cash". It's been wonderful having more floor and space for kids to wrestle."
Her post received a plethora of comments, as fans admired the new look achieved on a smart-budget. Some fans inquired about where she shopped, while other fans spotted few they thought will look more impressive if added.
There's more revamping going on in the newest episode of "Counting On." It appears the rest of the Duggars are transforming their home. While Joe and Kendra ushers in the rest of the family into their home, pregnant Kendra tells them about the new project for their soon-to-arrive baby.
The episode also features, Jeremy, talking about Jinger's musical talent, he also plans on buying her a piano, as a gift. Lauren and Josiah are equally seen planning a visit to Joe's.
Please fill in your e-mail so we can share with you our top stories!