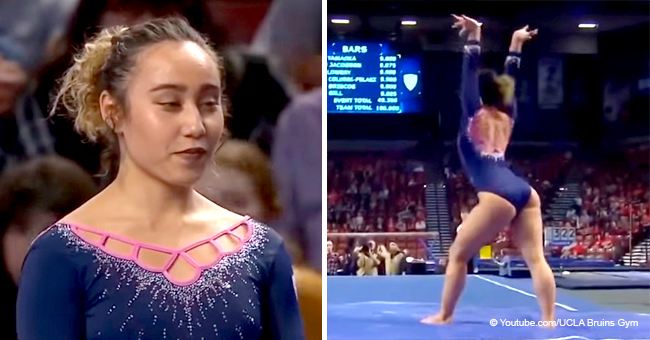 Viral College Gymnast Lands Another Perfect 10 with Incredible Floor Routine

Katelyn Ohashi got a perfect 10 for her outstanding gymnastic performance which wowed the crowd and judges. The video of her performance quickly went viral soon after.
Katelyn Ohashi is definitely a name to remember as her career is soon going to take off after landing a perfect 10 floor routine score. The 21-year-old recently had an outstanding performance which included hit songs, such as Earth, Wind & Fire's "September," the Jackson 5's "I Want You Back," and many more.
Her three-minute performance was smooth and clean, which also projected the basics of gymnastics - flexibility, focus, strength, and lots of energy. Ohashi was able to master tumbling passes, a technical move that has not been perfected by any female in the country.
What stood out from her execution was not only that knew every step by heart, but also that she performed from the heart, making it look fun to do.
Additionally, her teammates were present during the show and cheered her on from the sidelines while dancing to the beat of the different songs, giving Ohashi more confidence.
Ohashi has competed in numerous national competitions, representing her school, University of California. She has also won many trophies and landed three perfect 10 scores, prior to her latest one.
One of her routines which landed a ten was during her 2017 competition which featured signature moves from the King of Pop, including his famous moonwalk. From backflips, splits, cartwheels, and twirls, Ohashi's spirit is everything a gymnast needs.
Ohashi has been competing since 2009 when she joined the Junior Olympic National Championships and left an outstanding impression on all the judges. She placed first on floor exercise, second on uneven bars, fourth in the all-around, and seventh on vault.
In 2010, she competed in the junior division of the 2010 U.S. Classic in Chicago where she won silver medals in the all-around and on bars, beam, and floor.
Her first gold medal came from the 2010 Bumbo Cup in Pretoria, South Africa as she perfected the all-around, floor, and vault.
A defining moment for the gymnast happened in 2013 as she won the American Cup and defeated Simone Biles, her U.S. teammate. Unfortunately, she sustained a shoulder injury which hindered her from joining competitions for the rest of the year.
She was back on the mat by 2015, practicing, performing, and competing once again. From then on, she started placing first multiple times in different championships. Her love for gymnastics and positive attitude has kept her up and going, aiming to be number one.
Please fill in your e-mail so we can share with you our top stories!