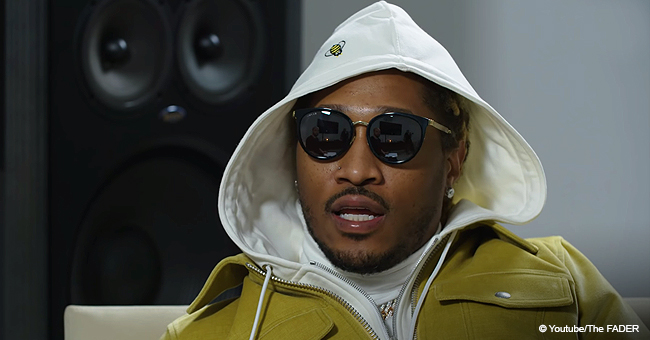 Future Surprised His Baby Mamas Didn't Show up for Him When He Needed Them in Recent Rant (Video)
Future has six different baby mamas and a lot of friends in and out of the industry, but it seems like the rapper recently figured out he lacks loyalty in his life. And he had a lot to say about it.
The hitmaker recently went on a rant on Instagram stories, stating that he's tired of all the fake love.
Future, real name Nayvadius DeMun Wilburn, recently faced some struggles in his private life, and although he didn't reveal of what nature, the rapper wanted to share with fans his disappointment when he realized no one was there to check on him.
"I don't need any more fake friends. I'm good. Nope! Fake friends not for me," the "Crushed Up" rapper started his rant.
He continued with a video that had this text on it:
"I bought cribs, cars, bags, jewelry, etc. no disrespect no hard feelings jus kno why I'm the way I am..not a simple text."
"This entire week has been madness," Future said. "No one checked on me."
He mentioned that his kids' mothers—or at least the ones he gets along with—were not there for him. "I say this to say this: if you don't give someone something, and they ain't thinkin' about what they can get – they not gon' call you," the hurt rapper added.
Future admitted to his flaws, not-so-humbly acknowledging that although he's not perfect, he makes sure to take care of everyone around him out of "the greatness" of his heart.
But don't get it wrong. The rapper says he's happy with life, and his rant was just to let his fans know that when there are fame and money in the table, some people only think about themselves and what they can get from you.
"As soon as you die, motherf***ers are gonna be cryin' about who love you the most. That sh*t cap. Straight up. I don't want no fake love," he concluded his bemoaning.
FANS' REACTIONS
Fans didn't buy Future's rant, and most agreed that he's probably getting the same treatment he offers to those around him. In a few words. You rip what you sow.
"If no one checked on you. That's a testament to how you make ppl feel or see you. It's not really on them, it's on you," pointed out one fan.
And another added,
"Hate to say this, but he set himself up for this! He gives very little emotionally and thinks money and material things will even the score! It looks like the joke is on him. These women are numb and have adapted to the energy he's put out! Be careful what you wish for."
THE BABY MAMAS
The 35-year-old is the father of six kids from six different women, and although he keeps a good relationship with some of them, he's not romantically involved with any of them now.
His most famous baby mama is Ciara, with whom he shares son Future Zahir. The pair were engaged in 2013 but ended their relationship because of the rapper's infidelities and have maintained a tumultuous co-parenting relationship since then.
He also has sons with Jessica Smith, Brittni Mealy, as well as a daughter with a woman named India J.
Future welcomed his youngest son, Prince, last December. His mother is model Joie Chavis, who also shares a 7-year-old daughter with Bow Wow.
And lastly, a woman named Eliza Reign recently came forward claiming that she is pregnant with Future's sixth child and accused him of threatening her life because she didn't get an abortion. She hasn't given birth yet.
Please fill in your e-mail so we can share with you our top stories!