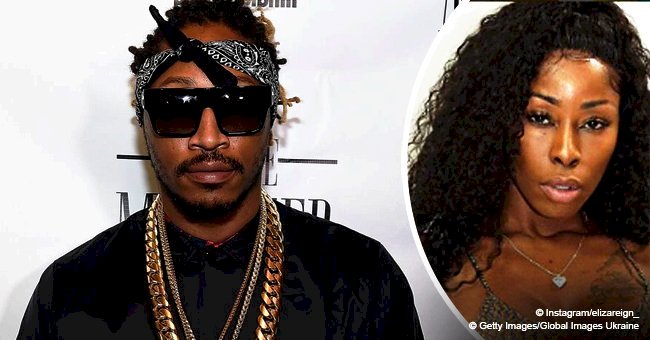 Future's alleged 6th baby mama claims he wants her & their unborn child dead
Future has found himself in the middle of another drama as a sixth woman claims she is pregnant with his child. She also reveals he threatened her life in an Instagram post, shown below.
Eliza Reign came forward recently claiming that she is pregnant with rapper Future's baby. The news comes just days after Brittany Mealy revealed she was cutting the rapper out of her life.
She had made the decision after a pregnant Joie Chavis said she was "thankful for Future" in a birthday post shared on her Instagram story.
Britanny had made the announcement in an Instagram rant. Future responded with his own rant on his stories saying, "I'm so proud of you. You found happiness. Okay," he said. "One monkey don't stop a show. Never have."
But, that was not the end of the drama for Future. It seemed to be just the beginning when Reign came forward with her story.
The model claims that she is pregnant with Future's baby at the exact time as Joie Chavis. She's also claiming that Future allegedly put a bounty on her head after she refused to abort her baby.
In an Instagram post, Reign claims that she's been sexually involved with the Dirty Sprite rapper for years. She also says she had agreed to have an abortion paid for by Future at first but changed her mind after talking to her doctor.
"NO LIE, RIGHT HAND ON THE BIBLE, shortly after that day, I got a call from someone telling me to be careful 'I heard Future want your head'", said Eliza
The original post was taken down by Instagram for not adhering to community guidelines. However, it has been posted to a number of different gossip sites.
Reign said she had intended to keep the situation quiet. However, the last straw came on Thanksgiving when a friend told her that they heard Future say "he should put money on her head." She now says she's come forward publicly to protect herself.
"My point of posting was to bring attention to the situation in hopes of him backing off. Not to force him to be in his child's life."—Eliza Reign
"They even told me the amount. And maybe this is some legal trouble behind it but I'm not letting no one's legal team make me silent while they threaten my existence and my unborn child. It's sad to think that a person that I laid up with for years would put a price tag/ value on my death and the death of their unborn child. I haven't stopped crying!" I AM IN TOTAL SHOCK. SCARED FOR MYSELF, MY UNBORN CHILD, AND MY FAMILY! Never thought that a person with 5 baby mamas would want the 6th one dead. It's truly heartbreaking!!!" It seems the best way to protect myself at this point is to bring this situation to light to hopefully make him back off." wrote Eliza about the threats that have been made to her.
So far there has been no response to the allegations from Future or his legal team.
Please fill in your e-mail so we can share with you our top stories!