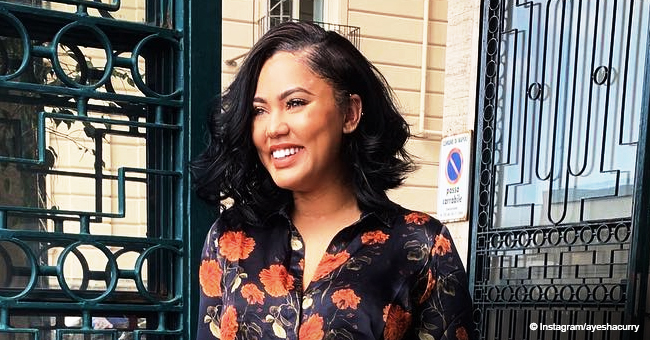 Ayesha Curry Shares Adorable Video of Daughters Riley and Ryan Serenading Their Baby Brother
Ayesha Curry can't stop gushing about her adorable children, and to share their joy with fans, she recently posted a lovely clip of her daughters serenading their baby brother. The 9-month-old baby looked thrilled.
Ayesha and Stephen Curry have the cutest kids, and fans can't get enough of them.
The entrepreneur mom recently took to her Instagram stories to document an adorable sibling-bonding moment between her children: Riley, 6, Ryan, 3 and baby Canon.
In the clip, saved and shared by The Shade Room, the girls are immersed in a song, playing around with mini guitars while sitting on a sofa. Canon is watching his sisters intently from the floor, while Ayesha recorded his cute reaction and couldn't help but laugh at her hilarious kids.
Fans found the moment amusing and took over the comment section to gush about them as well.
"He looks so concerned lol! Like, 'now, just what the hell is going on here'... this is so cute!" wrote one user.
Another added, "He's looking like 'I paid for Beyoncé.'"
And a third one pointed out, "Lol I didn't even notice they were singing 'In The Jungle' off Lion King."
A BUSY MOM OF THREE
Although Ayesha Curry has a lot on her plate, she's the vivid example of a working mother that manages to give both her kids and her career the attention necessary to thrive in life.
The 29-year-old cookbook author was recently featured on Parents magazine alongside her beautiful family, and among other things, she got to reveal a few secrets to making things work with three kids around the house, starting with basic table rules:
"In our house, you're definitely not getting dessert if you don't eat your dinner."
Curry, who says she faces the same problems as non-celebrity parents when it comes to feeding her kids, admitted that sometimes breakfast is made in a rush and could be only a kids' protein bar or "fruit served up on paper towels and eaten in the car."
VEGGIE INDUCING STRATEGY
Getting kids to eat their veggies can be a challenge for some parents, but Ayesha found the perfect way to ease them into their greens: by getting them involved in the kitchen.
"I try to make vegetables fun for the kids by getting them involved with cooking. Ninety-nine percent of the time, the girls are willing to try whatever it is they helped me make, whether it's salads, curries, or a kale smoothie," she said. And added:
"That said, Riley doesn't like mashed potatoes! I don't know why; maybe it's a texture thing. Ryan will eat anything. She'll sit there and down oysters."
MOM AND DAD HAVE FUN TOO
The Currys' are one of the most loved families from the entertainment/sports industry.
Just a few weeks ago, when Ayesha celebrated her "dirty thirty" in a surprise birthday party organized by Stephen, fans were more than thrilled of getting videos of the couple dancing like no one was watching in the middle of the dance floor.
And although some criticized their awkward dance moves, the general rule on social media is "do not disrespect the Currys." They're the cutest.
Please fill in your e-mail so we can share with you our top stories!