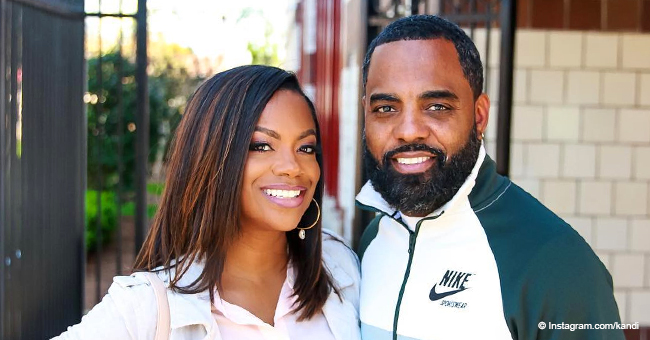 'I Love You so Much!' Kandi Burruss & Husband Celebrate 5-Year Wedding Anniversary in Sweet Posts
Kandi Burruss and her husband, Todd Tucker, are over the moon as they celebrate five years of wedded bliss. The "Real Housewives Of Atlanta" couple have had their fair share of struggles, including conflict rumors and infertility struggles.
Despite their demanding careers, multiple businesses, and a blended family, Kandi and Todd seem to have found a way to make their love work, and they do not take it for granted.
HAPPY WIFE
Taking to Instagram with several pictures from their talk-of-the-town nuptials that got its own "RHOA" special, Kandi, 42, wrote:
"I can't believe it's been 5 years!!! @todd167 I love You so much! You were the perfect match for me in every way. I'm thankful to God for you. The last five years have been amazing & I'm looking forward to all the amazing years we have to come. #itsouranniversary"
MARRIED BEST FRIENDS
Todd, 45, also shared a throwback wedding picture and gushed over Kandi who he described as "the best wife in the world."
"We did it!" continued the TV producer. "It's great when you can find the right one to spend your life with. We are best friends, and it gets no better than that. 5 yrs. down and many more to go! God makes no mistakes! I'm blessed!"
PUTTING IN THE WORK
Kandi and Todd met on the set of "Real Housewives Of Atlanta" in 2011 while the latter was a line producer and tied the knot on April 4, 2014.
It's been a long way from the early days when both spouses had to endure a long-distance relationship, but even then, the Tuckers made sure never to lose sight of what mattered.
In a 2015 exclusive interview with Hollywoodlife.com, the Xscape singer explained that they had to come up with a plan after Todd's L.A. schedule and her Atlanta schedule left no time for them to be together.
"We came up with our own plan of how many days we're willing to go without being able to see each other," Kandi offered, adding that the move was necessary to save their relationship.
THE SECRET SAUCE
Last year, the mom-of-two also opened up to ESSENCE about why their marriage has been successful, and it has a lot to do with communication and vibrant sex life.
"I [don't] get bored with him. I feel like in other situations I've lost interest or maybe they were a cheater, you know. I don't tolerate cheating. So our communication is all the way on point and I never get tired of talking to him so I think that is what automatically made me be like, ok, I can do this! The sex life is good too!"
BLENDED FAMILY
Kandi has a 16-year-old daughter, Riley Burruss, from a previous relationship and Todd is a dad to 22-year-old daughter Kaela, but the couple welcomed their son, Ace, via IVF on January 6, 2016.
Kandi has always been open about her struggles with infertility, and in Season 11 of the Bravo series, we saw her and Todd considering surrogacy for their next child.
FERTILITY ISSUES
"After having multiple thyroid surgeries, and still the fact that I have not been able to get pregnant the last two years, I know that I am going to have to do the same process again," Kandi said on an episode of the reality show.
She added:
"[I had] a couple of scares during my pregnancy with Ace. I was a high risk and I did have bleeding a few times. So my womb is just, it's not the best place to have a healthy pregnancy with no issues."
SHOOTING DOWN RUMORS
Despite their struggles, Kandi and Todd remain a tight unit, and the singer is first to let anyone know that their marriage is on solid ground.
Conflict rumors emerged last year after Kandi got her daughter a $100,000 white Porsche Macan as a sweet sixteen birthday gift. The stories claimed that Todd was angry that his wife spent so much money on a car for her daughter and that the two got into a huge fight. Kandi quickly dismissed the reports, however, blaming the blogs for fabricating the story.
It's good to know the Tuckers are doing just fine. Happy wedding anniversary to Kandi and Todd!
Please fill in your e-mail so we can share with you our top stories!