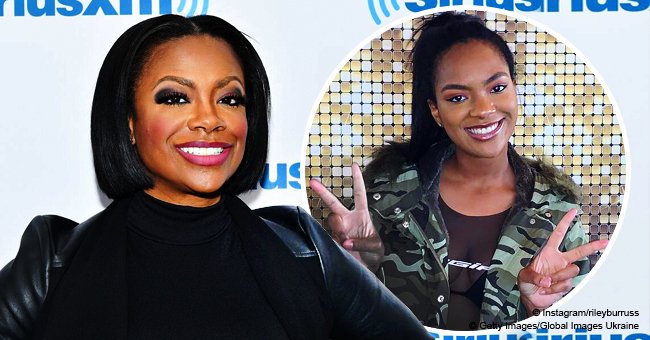 Kandi Burruss' daughter shows off slimmer figure in sheer top & camo jacket after losing 50 lbs
Riley Burruss is showing off her slimmer figure, and some skin, in a recent pic shared to her Instagram account, after losing 50 lbs last year. However, fans have mixed feelings when it comes to seeing the girl wearing see-through clothes.
Kandi Burruss' daughter is no longer a little girl, and she's slowly, but surely, making the world aware of that. The gorgeous teenager, first introduced to the fans on "Real Housewives of Atlanta," has always been known as a shy, smart, sweet girl.
However, Riley is now stepping up her game as she grows into a beautiful lady.
In one of her most recent Instagram pics, the 16-year-old showed off her slim figure wearing a see-through top over a black bra, camo jacket, black pants, and a Louis Vuitton fanny pack. She completed her look with a sleek ponytail, as she posed with a big smile on her face making peace signs.
Fans of the reality TV young star flooded her comment section gushing about her good looks, but some had conflicted reactions because of her outfit.
"@jeanettecmd: Omgosh Growing up @kandi baby girl is not a baby anymore with the see-through shirts We not ready. Lil Reilly we still see you with ponytails and braids. You're Beautiful tho."
"@crystalcraig: @rileyburruss you look so happy, and I know you feel great too. From watching the show, you seemed so shy. I think this new, fit, healthy young lady is bold and living out loud now!! You go girl!"
"@carmoncambrice: I guess I'm not ready to see you all grown up but you look beautiful."
RILEY'S WEIGHT LOSS JOURNEY
Riley revealed last year her incredible weight loss with a side to side picture before and after losing 52 lbs. At the time, Riley stated she was not done with her fitness journey, captioning her post:
"I have larger goals I am trying to reach, and I hope everybody follows me throughout my journey. I've been seeing peoples comments about them struggling with weight loss. I know the struggle & its real. But it can be done. Roll with me, and let's do it together! & I just want to thank every one for your supportive comments."
Kandi, always the supportive and proud mother, also made sure to congratulate her daughter for reaching such an incredible milestone, and mentioned how the bullying of people on social media played its part in pushing Riley to lose weight.
"Y'all just don't understand how hard it is to grow up in front of the public eye & in front of social media trolls who make negative comments about kids' weight," said Kandi. She added that it was hard for her as a mom to read all the comments her daughter used to get, but luckily, Riley has tough skin.
THE PRIVILEGE OF BEING KANDI BURRUSS' DAUGHTER
The girl, who's still in high school and plans on studying law, received a luxurious car for her 16th birthday, but it seems like she needs to take on some lessons about administrating money.
Burruss recently revealed on an interview with Money, that her daughter was spending way too much money now. "Before she was driving, Uber was connected to my credit card; UberEATS was connected to my credit card. She was randomly ordering stuff every day," Kandi said.
"I put a little bit of money in her account, and one day she was down to a dollar. I was like, "Girl; you can't do that."
Kandi confessed she needs to pass down some money lessons to her kids, including her and Todd Tucker's son, Ace, and step-daughter Kaela.
Please fill in your e-mail so we can share with you our top stories!