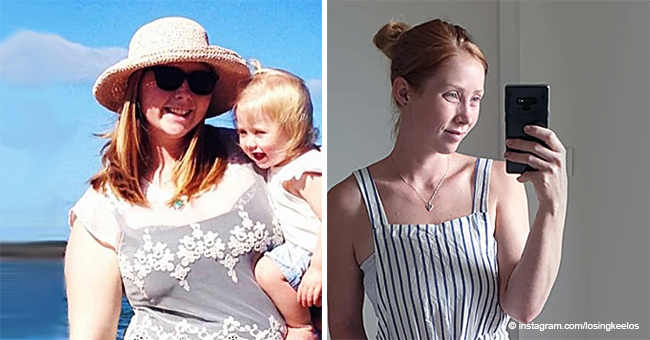 Woman Lost 125 Pounds by Changing One Tiny Thing a Week
Keely Dellit has lost 125 pounds in just fourteen months, all by taking baby steps towards healthier food choices.
She is inspiring frustrated dieters, many of whom tried and failed following the latest fad diets. Keely shares her weight loss journey with her growing number of followers and admirers.
Keely describes herself as an Aussie mom of three, who went from obese to a personal trainer who promotes natural weight loss and weighs 126 pounds.
Her posts show many before and after photos with motivating with captions like,
"A year from now, you'll wish you started today."
But what sets Keely apart from the rest is how she avoided anything too drastic and chose to take small, comfortable steps in the right direction. She shared,
"At first, I didn't cut out the fast food and treats that I loved; I simply chose smaller portions (like a small fry instead of a medium size). Then, I gradually made slightly healthier substitutions (grilled chicken instead of crispy, for example)."
Keely noted that her gentle approach helped her stay committed to her lifestyle change saying,
"Once I got used to that, I swapped out soda for juice and then traded that for sparkling water. I cooked brown rice instead of white, tried plant-based milk instead of dairy, ate at home instead of ordering takeout. Those tiny, gradual changes allowed me to slowly transform my lifestyle."
A similar life-change had to be made in the health journey of Carlos Orosco. The 41-year-old from Michigan went from obese to a marathon runner. While Orosco's case had more pressing issues that required surgery, it was his commitment to diet and exercise that led him to lose 475 pounds.
Carlos shares the joy that he feels after reaching his goals saying,
"My body image and self-confidence are at an all-time high. I am much more confident, and most importantly, I am genuinely happy, and do not have to fake it anymore.
Please fill in your e-mail so we can share with you our top stories!