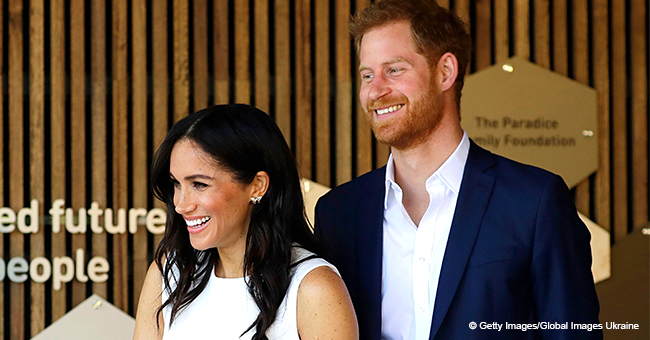 Meghan Markle & Prince Harry Share Unseen Photos from 2017 Botswana Trip after Opening IG Account
Meghan Markle and Prince Harry now have their own official Instagram page distinct from that of Kate Middleton and Prince William, and their fans are going crazy. They recently shared never-before-seen photos from their 2017 Botswana Trip, where they advanced their Elephants Without Borders cause.
The social media account's fourth post revisited the couple's conservation work, as Prince Harry attended the recent premiere of the Netflix documentary "Our Planet" with his father, Prince Charles, and brother, Prince Wiliam.
Fans were ecstatic to see Harry and Meghan placing a satellite tracker on an elephant, which hopes to provide information on elephant migration trends and protect them from poachers. The two worked hand in hand to place the collar on the elephant, which was sedated for only 10 minutes before being back up with the rest of its herd.
In their comments section, fans were impressed with Meghan Markle's eagerness to join Prince Harry in his advocacies even before they were engaged, which won their hearts even more.
"visagedefleurs: Wow, so Meghan was already doing this work with Harry before they were even engaged. So impressed by this couple!"
"@_duchess_of_sussex: I'm so here for this information we didn't know! Meghan already doing work with him pre-engagement. We appreciate this so much!"
"@spooopie: Meghan has always work and supported good causes behind the scenes. Prince Harry met his Princess ..Great work"
Meghan's Humanitarian Work
While Harry and Meghan make a good team, the Duchess of Sussex proved that she, too, can stand on her own by having her own solo projects.
Back in September 2018, she released a cookbook called "Together: Our Community Cookbook" which focuses on the Hubb Community Kitchen.
The community consists of a group of displaced London residents who have been meeting to cook for one another since their homes burned down in the Grenfell Tower fire.
Her project was well-received, and her proud husband supported her all throughout the whole ordeal.
Now that they have their own Instagram account, fans can expect to see more of their works more often at a more personal level.
Please fill in your e-mail so we can share with you our top stories!