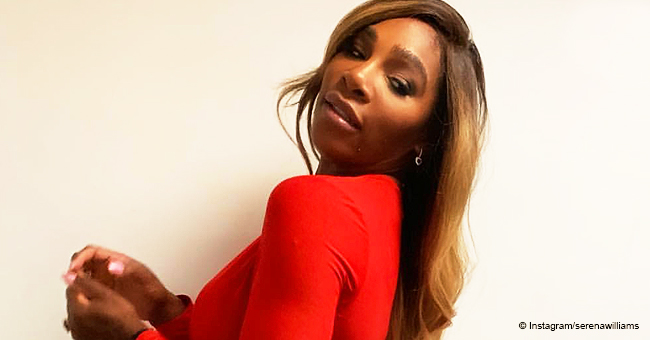 Serena Williams Flaunts Her Enviable Curves in Plunging Red Dress and High Heels in New Pic
Serena Williams is a stunner in a body-hugging red dress that left fans in awe of her enviable curves. She wore the look on a visit to the "Today" show, the same day that she suffered a wardrobe malfunction that made her expose a bit more skin than intended.
Serena Williams released her clothing line, Serena, last year, and ever since, she's been flaunting some pieces of her collection while encouraging fans to buy and achieve her empowered woman look.
In a recent Instagram post, the 23-times Grand Slam winner donned her twist front red dress, a fitted piece that perfectly hugged her body and enhanced her curves in all the right places.
She completed the outfit with tan stilettos, a silver necklace, and small diamond earrings. For the hair, Serena went for a medium-blonde color and a slightly wavy hairstyle.
"Red hot on the Today show. My twist front dress by @serena twist front dress. Link in bio #weshipworldwide," she captioned the post.
Fans and friends were quick to fill her comment section with praises, as they fanned themselves about Serena's enviable curves.
"Omg! Hot Momma. Love the red on you," wrote one fan.
While singer Kelly Rowland added, "You look absolutely stunning Rena!! Loving this color!!"
And another fan pointed out:
"Sweet lawwwd!! That second pic. That's a natural, organic, 100% bouncy badonkadonk!"
Serena wore the dress in an interview with the "Today" show, where she revealed that the married life alongside Alexis Ohanian has been "really fun."
"It's just been so amazing to have him in my life and to have my daughter in my life as well," she said, referencing daughter Alexis Olympia. "He has done so much for the family and for us … it's all new to me."
Williams said that having a partner like Ohanian, who is the co-founder of Reddit and is as motivated as her, "it's awesome and it's amazing." "It's been really, really fun," she added.
After ending her interview in the show, Williams changed outfits to visit BuzzFeed's headquarters in New York.
She rocked a lovely striped light blue shirt dress that featured a heart print and shiny red heels. However, while posing for paparazzi, Serena suffered a wardrobe malfunction when the bottoms of her dress popped open, revealing her upper thigh and even her underwear in some pics.
But Williams remained unfazed about the incident, and even shared a pic to her Instagram of the incident, proving that she's not ashamed of showing off a bit more skin than intended.
Serena recently partnered with Pampers to help launch their new Cruisers 360 FIT diapers, and her daughter Olympia is the real star in the ad campaign.
"Olympia is super-active (just like her mama). I never know what she'll do next, but I love it because that's how babies learn and grow!" Williams told her Instagram followers.
Talking to People, the 37-year-old revealed that being a mother has been a learning experience and a blessing. And even though her daughter might go through fits of misbehavior, like many toddlers, she feels sorry for her instead of being mad.
"They're just kids who can't really communicate, and they don't know how to — they're so close, and they want you to understand what they're saying," she explained. "And you don't get what they're saying, and then they fall on the ground, and they don't know what else to do."
"It's a pretty amazing thing to me. I'm learning a lot," she concluded.
Please fill in your e-mail so we can share with you our top stories!