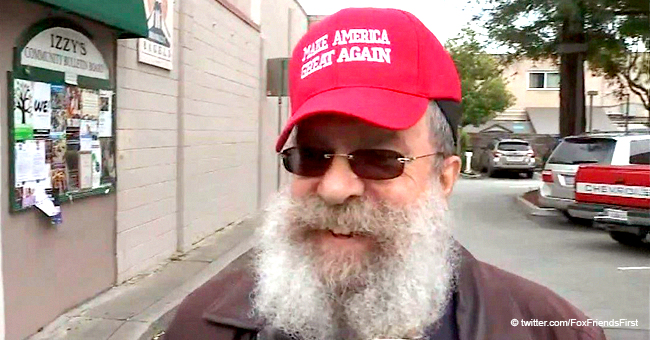 Elderly Jewish Man Deemed 'Racist' and 'Called More Names' at Starbucks for Wearing a MAGA Hat
An old man was verbally assaulted while enjoying a coffee at Starbucks by a woman who did not tolerate seeing him wearing the iconic Make America Great Again hat.
The woman identified as the co-chair of the Bayshore Progressive Democrats, Rebecca Parker Mankey, started out of nowhere to attack the poor Jewish elder by telling him he was a racist who hated brown people and even called him "Nazi scum."
"This woman came over and not only started screaming at me, she turned to the Starbucks audience and said, 'Hey, everybody come here! This guy's a racist! This guy hates brown people!'" Told the man later.
Not content with all the commotion she built inside the Starbucks while screaming at the old man, the woman published a detailed description of the meeting she had with the Trump's supporter and shared it through her Facebook and Twitter accounts.
Far from feeling remorse for what she had done, the woman posted on her twitter: "I am going to publicly shame him in town and try to get him fired and kicked out of every club he is in."
The woman was so out of her mind that she bragged about chasing the old man on the streets, "I followed him to the register while he complained about me, then chased him out of Starbucks yelling at him to get the f--- out of my town."
The old man is a 74-year-old retired technical writer who identified himself simply as Victor and decided to give a detailed report of the attack he suffered in Palo Alto to the Daily Post.
"People have always been allowed to wear a button or a political shirt," Victor told the newspaper. "Now, using a Trump button is considered a provocation."
Mankey has been fired from her job due to the harassment she subjected the old man and apparently has also renounced to her position within the Progressive Democrats.
It is always important to remember that ideological polarization only leads to extremist reactions, regardless of the tendency to defend. Whether they are Democrats or conservatives, the intolerant always seek to generate controversy and division.
Such was the case of a Youtuber famous for its controversial publications that many times have been denounced by users of the platform. He tried to publicly embarrass a waitress from Hooters for not sympathizing with his MAGA hat.
In the six-minute clip that the man uploaded to his YouTube account, which contains strong language, he explained that the waitress walked up to him and asked if he was a Donald Trump supporter due to the "Make America Great Again" hat he was wearing.
Once Sotomayor admitted he was indeed a Trump supporter, the waitress, only identified as Shay, allegedly got upset, flipped her hair, and walked away from him.
Please fill in your e-mail so we can share with you our top stories!