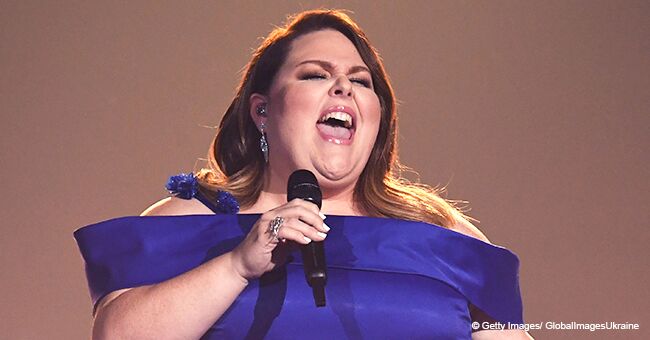 Chrissy Metz Steals the Show by Making Her Live Singing Debut at ACM Awards with Carrie Underwood

Chrissy Metz debuts "I'm Standing with You" from her upcoming film "Breakthrough" with different stars joining her performance.
Chrissy Metz made her live singing debut of "I'm Standing With You" last Sunday at the Academy of Country Music Awards in Las Vegas. The "This Is Us" actress was accompanied by Carrie Underwood, Mickey Guyton, Lauren Alaina, and Maddie & Tae on stage as she performed the song from her movie "Breakthrough."
The performance highlighted the philanthropic arm of Academy Country Music, "ACM Lifting Lives."
Diane Warren, the writer of the song, was first hesitant to let Metz sing it, but had a change of heart upon hearing the actress's voice.
"To be honest, I was like, 'Oh, [expletive] -- an actress who wants to sing? Yikes," Warren told The Hollywood Reporter.
"I met her in the studio and left while they recorded. I came back in a few hours and she blew me away. I was so shocked. She's so soulful and has a great voice. I believe her."
Before the ACMs, Mets shared with PEOPLE:
"I'm excited. I mean, you know, as a little girl, you always dream about something like this. But to actually do it and to hold a stage with these incredible women -- Lauren Alaina, Carrie Underwood, Maddie + Tae, Mickey Guyton. Are you kidding me? It's really exciting."
The 38-year-old singer was also able to share an incident during the ACM red carpet:
"Here's the thing. I just ran into Tanya Tucker. I was like, she literally kissed my hand -- I have her lip gloss on my hand, folks. I really do love all of these acts and all of these artists."
"I got to see George Strait and Miranda Lambert sing one of my favorite George Strait songs at a rehearsal. I was like, losing my mind. Everyone here is just incredible. I love country music," she added.
Among the other performances during the ACM was a spectacular one by Reba McEntire, who performed her new song, "Freedom," which is part of her latest album, "Stronger Than the Truth," released last April 5. McEntire, 64, was also the host of the ACM for the 16th time this year.
Notable artists who won awards during the night are Kacey Musgraves, taking home the "Female Artist of the Year" award and "Album of the Year" award for her "Golden Hour" record," and Dan + Shay who won "Duo of the Year" award and whose song, "Tequila," won "Single Record of the Year" award and "Song of the Year" award. Additionally, Musgraves also won four Grammy Awards last February 10.
Please fill in your e-mail so we can share with you our top stories!