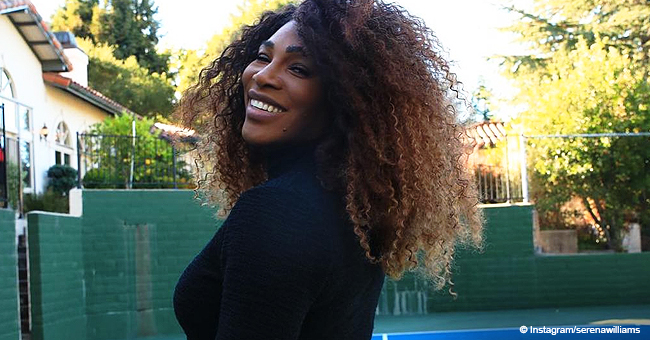 Serena Williams Shares Pic of Daughter Having Gymnastics Lesson, Asks Simone Biles to Give Her Tips
Serena Williams has always said that her top priority is her daughter and this is proof. She shared a pic of her daughter, Olympia Ohanian taking Gymnastics lesson on Instagram.
In the picture, one of her daughter's legs was stretched forward while she stood on the other. It's hard for grown-ups to stand and balance on one leg, but it was easy for the one-year-old. Her mother held her at one side, and an unknown female held her on another while she balanced on the beam; Alexis looked like a natural.
Serena captioned the photo,
"Can't wait for @olympiaohanian to get tips from @simonebiles."
Biles replied the message with,
"Oh my goodness, I'll give her a lesson any day! She's beyond precious!? Get it, girlfriend".
Serena's husband Alexis Ohanian could not resist joining the conversation as he wrote:
"@Simonebiles I'm taking you up on this champ."
Simone Biles is a 22-year-old American Artistic gymnast. The professional athlete was the 2016 Olympic individual all-around, vault and floor gold medalist, and balance-beam bronze medalist. She was part of the gold-medal-winning team dubbed as the "Final Five" at the 2016 Summer Olympics in Rio de Janeiro.
With all Simone Biles has achieved at such a young age, it's right to say that Selena wants her daughter to learn from the best.
This is not the first time the daughter has been linked to great career jobs. Recently she was seen acting as President in what seemed like a replica of the white house. She is also the youngest person ever to grace the cover of American Vogue.
Serena recently told "People" during an interview how she has not spent a single day apart from her 19-month-old baby since she was born. The doting mother who has a very busy schedule considering her career as a tennis player said being a mother is the most important job that she has, and she is not willing to fail at that.
"I'm a super hands-on mom. I am with her every day since she was born. We haven't spent a day apart. Despite my best efforts to be like, 'Oh, I'll take her with me' … It's been really trying. This is a whole new territory for me." Williams reveals.
Although this comes with its challenges, the mother of one seems to be doing a hell of a job mothering her baby girl.
Please fill in your e-mail so we can share with you our top stories!