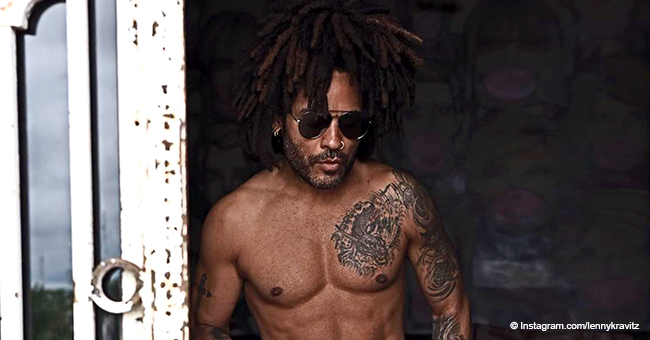 Lenny Kravitz Drops Jaws, Flaunting His Rock-Hard Abs & Tattoos in Shirtless Photo
Lenny Kravitz seems to be aging backward, and his fans are all for it. The rockstar shared a new photo of him enjoying a drink in the morning, showing off his rock-hard abs in the process.
At 54-years-old, Lenny Kravitz sure knows how to take care of himself. In fact, his body is jaw-dropping, and it's easy to wonder how a person of that age is able to maintain a body like that.
On Sunday, the rockstar shared a shirtless photo of himself that had the internet go crazy, as he didn't look a day over 30. In his caption, he thanked God for another day of life, taking it as a new opportunity to grow, learn, and love.
Lenny then threw it back to his fans, asking them what they were about to do today.
Of course, his fans made sure to flood his comment section not just with answers to his question, but with praises about how good he looked.
"@themissphoebe: I will not only grow, learn, and love, but will pray that your soul recognizes its counterpart in another and that you find fulfilling, blissful love with a partner. I would prefer that partner be me, but whomever else God sends your way will do hahahaha"
"@monicawisdom: Today I will stare at this picture. That's about it"
"@mehcadbrooks: My guy drinking fountain of youth juice on tap"
The Lenny Kravitz Lifestyle
Kravitz currently has an all-plant diet which seems to be working mighty fine, as it is doing his body a lot of justice. He is also an outdoor kind of man, as he enjoys being one with nature.
At 54, he is still hopeful that he would eventually settle down and find love, but it is difficult for him because he is dedicated to his craft.
Instead, he has been choosing to spend his free time with his grown daughter, Zoe Kravitz, who is also a budding actress like her mom, dad, and stepdad, Jason Momoa.
According to him, he and Zoe will "ride til the wheels fall off," as the two of them have that ride or die relationship.
Everything seems to be going well for Lenny, and the only thing missing is the companion that he has longed for quite a while now.
Please fill in your e-mail so we can share with you our top stories!