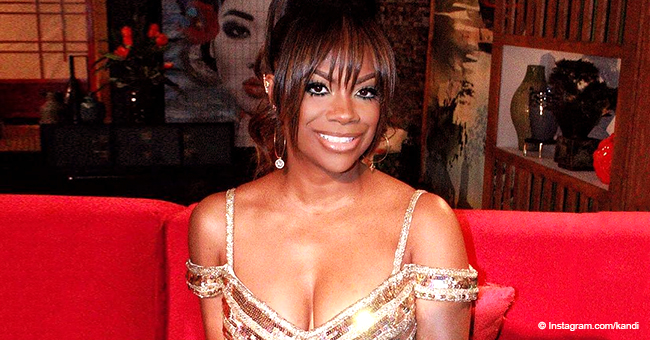 Kandi Burruss Explains Why She Wore Tammy Rivera's Back-Up Wedding Gown for 'RHOA' Reunion
Though gold was not her color of choice, Kandi Burruss looked stunning in the hue during the RHOA reunion. She later revealed the dress was actually Tammy Rivera's alternate for her renewal of vows.
The reunion show of "The Real Housewives of Atlanta" saw its cast members wearing fashionable gowns for the occasion. Kandi Burruss, dressed in gold revealed the gown she wore was actually Tammy Rivera's back-up wedding dress.
GOLD AGAIN
Speaking to BET after the special aired, Kandi opened up about her choice of color for her dress and why she decided to wear Tammy's gown.
"I know everybody was like, 'Why is she wearing gold, again?'" Tammy said, recalling she also wore gold in the past reunions. She explained it was the decision of production what color she was supposed to fashion.
"Basically, they normally tell you the color they want you to wear for the reunion. In the past, years ago, they used to try to tell us what to wear, [but] they stopped doing that. Now they'll give you a color. This year, they gave me gold, and my team and I were like, 'Why are we getting gold again? I've worn gold two years in a row.'"
Now on her third year wearing the hue, Kandi swears this is the last time.
"No more gold after this. I won't be wearing gold again."
THE BACK-UP DRESS
But more than the color of her dress, a more interesting thing about it is that it was actually Tammy's back-up wedding dress. Kandi shared the story of how she ended up wearing it.
"Our friend, Jodie, does both of our hair so I guess Jodie was telling her that I was supposed to wear gold again and so she hit me and was like, 'Girl, I got the perfect dress for you.'"
The dress was an alternate for Tammy's recent renewal of wedding vows but she never wore it. Tammy sent Kandi a photo and suggested she wear it instead. The fashion boutique owner said "ok" and with a few alterations, the dress was perfect for her.
"It's really a two-piece but I had it sewn together because I was scared, I didn't want no belly to roll over," she explained.
Photos of Kand in the dress shared on her Instagram reveal how well it looked on her. "I want to send love to my girl @charliesangelll for hooking me up with the perfect gold dress!", she wrote.
THE DAY THE DRESS WASN'T WORN
Tammy renewed her vows with rapper Waka Flocka in Mexico back in January. The celebration of their 5-year-milestone was a fulfillment of the reality star's wish to have her dream wedding.
She wore a stunning white lace gown by Zuhair Murad and matched it with a crystal headpiece. The look was completed by the 5-carat-diamond ring Waka slipped on her finger.
The occasion was made even more memorable by the special participation of Tammy's daughter, Charlie. As Waka gave Tammy a ring, he also slipped one on Charlie's finger. What a beautiful exchange it was.
Please fill in your e-mail so we can share with you our top stories!