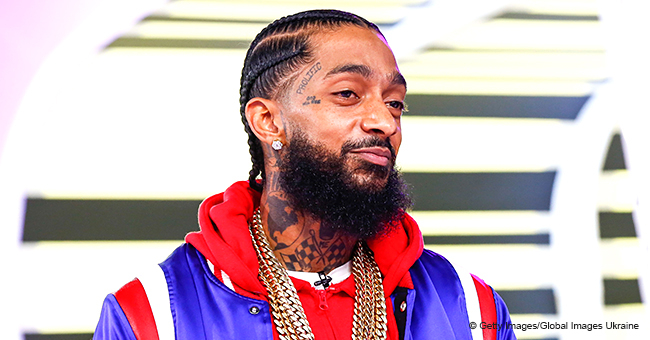 Nipsey Hussle's Mother Stays Positive, Speaks Encouraging Words after Son's Murder

While fans the world over are still reeling from the tragic death of rapper Nipsey Hussle, his mother, Angelique Smith, remains at peace and recently shared spiritual words of wisdom that everyone needs to hear.
Nipsey's March 31st murder left many grieving, not just because he was an intellectual rapper, but because he was a man of the people who put his community first.
You might expect his mother to be inconsolable and devastated right now, but in a message reposted by the Shade Room, Smith assures everyone that she has "perfect peace."
"Don't fear. When you live your life, and you have God on your side, when God dwells inside of you, there is no fear. Everything is in perfect order," she began.
DIVINE PEACE
Smith added:
"Everything is in the divine perfect order of our creator and we have perfect peace. I have perfect peace and I have strength. And I want to lift you up. Please do not stay down. Do not stay stuck. Do not mourn because Nipsey is great. He is the great and now he's even greater because he has no bounds and no limits; his energy is everywhere. He's there with you now and he's here with me now. Please be encouraged."
Smith further admonished everyone to banish the fear of death and revealed that Nipsey (born Ermias Joseph Asghedom) glowed even in death.
AN UNCOMMON PHILOSOPHY
"Death is not to be feared. Death is something to prepare yourself for," she said. "And when you walk this Earth, and you do good deeds for people, and you are loving and kind, those are the things that will show on your face. You will look more beautiful."
"Ermias looked healthy, he looked clean, he had a glow. He was radiant. And he was so perfect that he had a sweet aroma. He even smelled good."
"So please do not fear death. Death is just the beginning of a wonderful world. And I tell myself, Ermias liked thrilling things. And now my son knows the mystery, the secret rather, to the mystery of life."
NIPSEY'S LEGACY
When Nipsey's family members broke their silence over the rapper's death a few days ago, Smith had said she wants her son to be "remembered as a humble, spirited, respectful man who had, since his childhood, had an extraordinary and unlimited intellectual capacity."
Speaking in the same Los Angeles Times interview, Nipsey's father, Dawit Asghedom, implied that his son was a divine messenger who never hesitated to speak the truth through his rap lyrics.
"We all have a plan, but God has his own plan," Dawit said. "So he [Nipsey] had completed what he needed to be doing, and he did it early so [God] probably want to take him early too."
A SPECIAL KIND OF LOVE
The rapper's longtime girlfriend, actress Lauren London, who previously admitted to being "lost" without her man, also vowed to "always represent" for the man she calls her "king."
The lovebirds shared a two-year-old son named Kross while Nipsey was also a father to seven-year-old daughter Emani from a previous relationship.
A GREAT MAN DEPARTS
Nipsey succumbed to multiple gunshot wounds on Sunday, March 31 at the age of 33. The rapper/businessman was outside his South LA clothing store when the incident took place.
29-year-old Eric Holder has been arrested as a suspect in the shooting and, according to the LAPD, has been charged with one count of murder, two counts of attempted murder and one count of possession of a firearm by a felon.
Nipsey will be laid to rest on Thursday, April 11, following a 10 AM celebration of life service at The Staples Center that same day.
Please fill in your e-mail so we can share with you our top stories!