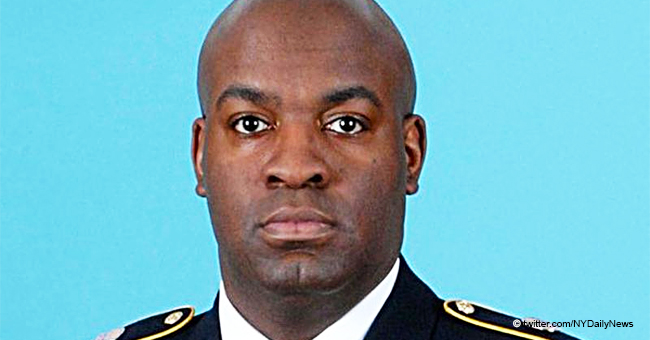 New Jersey School Principal Died Just Weeks after Donating Bone Marrow to Save a Boy in France
Westfield High School Principal Derrick Nelson spent a month comatose before he passed away on Sunday after he donated bone marrow to save a 14-year-old French boy's life.
On Monday, the Westfield School District Superintendent Dr. Margaret Dolan sent a letter to parents and informed them of the sad news:
"Dr. Nelson touched us all with his kindness, compassion, integrity, and endlessly positive attitude. We hold him and his family in our hearts as we grieve this loss together and I know you join me in granting his family the privacy they have requested."
Shortly before Derrick underwent the donation procedure in February, he spoke with excitement to his school's student newspaper hiseye.org about being able to help someone in need."If it's just a little bit of pain for a little bit of time that can give someone years of joy, it's all worth it," Derrick said.
He further told the student newspaper that doctors didn't want to use anesthesia for the procedure because Derrick suffered from sleep apnea.
As a carrier of sickle cell anemia, medics couldn't harvest stem cells intravenously either and eventually decided on bone marrow surgery under local anesthetic.
Derrick underwent the procedure at Hackensack University Hospital and his family knew something went wrong.
"After the procedure he did, he couldn't speak and was lying in the bed," his father 81-year-old father Willie Nelson told NJ Advance Media. "His eyes were open and he realized who we were. But he couldn't move. He never spoke again."
Willie and his wife, Juanita, along with Derrick's fiance Sheronda and their 6-year-old daughter stayed by his bedside with the hopes that Derrick would recover, but sadly that never came to pass.
"We really don't know the full story of what happened," Willie added. "We were expecting him to come out of the coma he was in. But he didn't make it."
Family plan on having a funeral at St. John's Baptist Church in Scotch Plains later this week while Westfield High School made counselors available at the school from Tuesday.
According to school officials, Derrick recently re-enlisted in the army after he served as an officer in the US Army Reserve for over 20 years.
Shelly Brindle, the Mayor of Westfield reiterated the feelings of those who knew him as she shared a post on Facebook:
"This is a tremendous loss for our community, and I know that our children, and we as parents, will struggle with coming to terms with this over the coming days and weeks. He was a man of immense character and kindness, and his legacy will live on in the generations of students whose lives he touched."
Even though there are always risks involved in any medical procedure, many organ donations go off without a hitch. With an estimated 20 people dying every day in the US while waiting for organs like kidneys and bone marrow, it's been a rewarding risk for many.
The website MatchingDonors.com is a non-profit organization that works tirelessly in "finding altruistic living organ donors" for people in need of transplants.
Anyone in need of an organ, or willing to donate one, can register on the site, given that you live in the US, the UK, or Canada and resulted in many finding the lifesaving organs they desperately needed to survive.
With organs like kidneys being in high demand, people often wait years to get one, and with sites like MatchingDonors.com it increases the chances of those in need substantially, but sometimes help comes from other avenues as well.
A 31-year-old hockey fan from Pittsburgh, Kelly Sowatsky got placed on the waiting list for a kidney in 2015. With time not being on her side, she wrote a huge sign and displayed it during an NHL game. "Calling all hockey fans! I need a kidney! Kidney! Kidney! Gratefully yours, Kelly," she wrote along with her phone number.
The sign went viral soon after and Kelly found the kidney she so desperately needed.
Please fill in your e-mail so we can share with you our top stories!