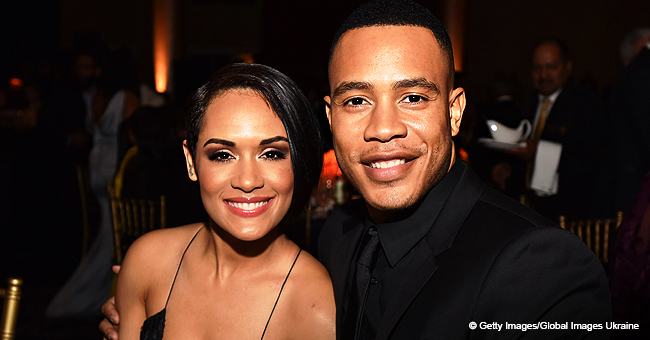 Trai Byers' Wife Shares Videos of Herself Going Blonde for the 1st Time & Result Is Just Amazing
Trai Byers' wife and "Empire" co-star Grace Gealey is no doubt a beautiful woman and her recent decision to go platinum blonde has fans more stunned than ever. The actress took to social media to document the process and its fantastic result.
Fans of Gealey, the woman who plays Anika Calhoun on the Fox series "Empire," know that she favors short hair, but her new look is on a whole different level.
Towards the end of last month, the 34-year-old actress shocked fans and followers with a series of videos documenting the process of coloring her hair at the salon.
"I feel bamboozled," Gealey joked in one clip as a stylist applied hair product on her short locks.
EXPLAINING THE PROCESS
In a second clip, another stylist explains that they just did a "pre-lightening" on the star's hair before answering Gealey's "How blonde are we going?" question.
"The goal is to get her all the way to platinum. You got to be platinum; that's the key. So, even if we want to drop it to those beige-y tones, cos I know you're worried about 'oh is it going to match my skin tone?' and you have like a kind of rosy pinky skin tone so I want to go really light but then I want to add some beige in there. So, we're going platinum. Yea, let's just go all the way."
THE AMAZING RESULT
Gealey was shocked to see her new look when the stylists rinsed off her hair and couldn't help screaming as she filmed the process.
"Oh my gosh! It looks like a wig! I don't know how I feel about this" she yelled.
A DIFFERENT REACTION
It was probably the shock of seeing her blonde hair, a sharp contrast to the previous raven-black hue, that prompted Gealey's statement because since then, she's been rocking her new hair all over social media.
"Because, what box?" she captioned a more recent picture of the blonde hair, all styled. Gealey was likely referring to the fact that her new look is a step out of the box.
FROM THE SCREEN TO THE HOME
Byers, her hubby, is yet to comment on the hair but we'd easily bet that the actor is supportive of his wife's choices. The couple tied the knot on April 14, 2016, after meeting on the set of "Empire," the hit musical drama that premiered a year earlier.
Although Byers and Gealey jealously guard their personal life, the Kansas City-born actor opened up in a 2015 interview about knowing Gealey was the woman for him.
"She and I...obviously, we have similarities like anybody else, and we share a strong love and passion for God, which is necessary for both of us."
Since they've been married, however, Byers and Gealey share more of their love and lives with fans on social media.
The star couple recently thrilled fans with a passionate Rumba dance video where Gealey revealed that it was her "shy" husband's first time of learning the routine.
We also got a sneak-peek into their sweet love when the actress penned a touching tribute to Byers last year on his 35th birthday.
Please fill in your e-mail so we can share with you our top stories!