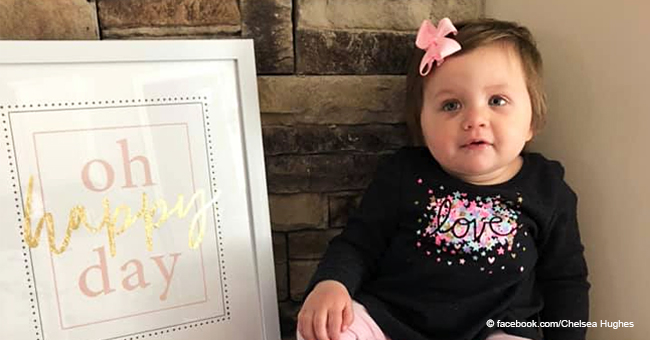 'Oh Happy Day': 1-Year-Old Girl Poses in a Sweet Photo Revealing She Has Beaten Stage 4 Cancer
Every parent's dream is to see their baby blossom when they grow through the various developmental stages. It is no surprise the Hughes family is excited to share their baby's growth with the world, especially as she happens to be a cancer survivor.
Recently, an upload arrested the attention of Facebook users, as a mother updated her page with the picture of her 1-year-old daughter who stood the test of time, and consequently overcame her illness.
The post was captioned:
" OH HAPPY DAY!!!! Molly has some good news to share!!!her scans were clear and showed no evidence of the disease (NED), there's no active cancer left in her little body. Our God is SO GOOD!!! Thank you all for all your prayers!!!! She will start a trial drug called DMFO to help keep cancer away, and she will have scans every three months to make sure there is no relapse. Please continue to pray that cancer stays away from ever! He answered their prayers because they trusted him. 1Chronicles 5:2."
Her post generated thousands of likes, as well-wishers and family dropped words of encouragement, prayers, and some were joyous about the news.
For Molly Hughes, she hadn't experienced a normal childhood since birth. The 1-year-old spent an enormous amount of time in hospital beds.
When she was 5-months old, she got diagnosed with advanced neuroblastoma — a rare type of cancer that spreads to different parts of the body from the adrenal glands covering the kidney.
The diagnosis was at St. Jude Children's, and ever since the little chap has had to undergo chemotherapy, radiation and other medical procedures which helps her feel better.
In January, after having undergone five rounds of chemotherapy, her doctors declared her free of cancer. Her family was thrilled, and they shared the photo of her marking the end of her 15 months procedures.
Her delighted mother could not believe the doctors' observation; however, what was more unbelievable was that her toddler would enjoy being like every normal kid. In her words:
"I kinda fell to the ground after I got off the phone, I just hugged her for like five minutes. She loves being outside from the time she gets up till she goes to bed; she's just wild, so full of energy and just loves what a baby loves to be doing."
She expressed her utmost happiness and claimed that prayers came throughout for her little girl, who exhibited strength throughout and finally turned out victorious. Family seems to be everything, from supportive to understanding.
A similar case is the 40-year-old Jamil Rivers and her husband Ricky who have found a way to cope with their three kids even after both parents were diagnosed with cancer. Jamil claims she still works, and move around the house the same way she used to before the diagnosis.
The family also has the support of the American Cancer Society, Jamil confessed she gets free rides to and fro work every day from the group.
With great care and affection from family and friends, we hope Molly never relapse again.
Please fill in your e-mail so we can share with you our top stories!