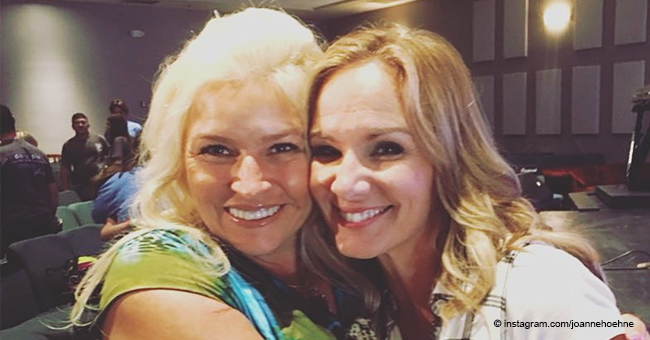 Church Pastor Asks to Pray for Her 'Dear Friend' Beth Chapman in New Photos Amid Cancer Battle
Beth Chapman fights her second battle with cancer and family and friends are rallying behind her. Church pastor Joanne Hoehne reached out to her Instagram community requesting for prayers for her friend.
In her post, she wrote:
"Prayer request!!! Would you please pray for my dear friend Beth Chapman. She's had some setbacks and needs a sea of faith-filled prayer!! She will live and not die and declare the works of the Lord."
Over a year ago, lead pastors and church founders of The Source Church in Bradenton, Ralph and Joanne Hoehne, connected with Beth through a mutual friend. Joanne says, "She's a soft, sweet spirit."
Beth's husband, Duane Chapman, otherwise known as "Dog the Bounty Hunter" delivered a personal message of redemption during the services on Sunday, with his wife sitting in the front row. Duane said,
"Faith is probably the number one thing in our lives, no matter what we're faced with."
He adds, "Through this cancer episode, we had to drum as much faith as we could. And the Bible talks about having faith as small as a mustard seed. And that's not much … And I thank God that we had at least that much faith to get her through that."
Beth was rushed to the hospital on Saturday in Hawaii. A source says, "Beth Chapman has been rushed to a Hawaii hospital with serious breathing issues. She hasn't been feeling well of late and Dog is by her side. One thing everyone knows about Beth is that she's a fighter."
She has been fighting throat cancer and started chemotherapy treatments in L.A. in December. In September 2017 she revealed she had stage two cancer and announced a few months later that she was cancer-free.
But by November 2018, she had emergency surgery and learned that the cancer had come back and spread to her lungs.
Her husband Dog talked about his love for Beth, his wife of 12 years, "I don't listen to the bad news. I don't want to hear it. … I pray a lot, anywhere. I cry all the time. I'm a sinner. I pray a lot. I have done double that. I constantly ask God to heal my honey and make sure He takes care of it. I've been telling Him that I'm going to try and quit smoking and cursing. I'm a dealmaker, and I'll do anything."
Beth started in the bail bonds business at 29 years old, the youngest woman in Colorado to do so. Her step-daughter broke her record soon after having become a bail bondsman at an impressively young age of 19.
Hard to believe that the 51-year-old reality star is a great-grandmother, having just welcomed her first great-grandchild from her grandson, Dakota.
Among Hollywood celebrities who have also suffered from throat cancer is Michael Douglas. The actor underwent six months of treatment after being diagnosed with stage four cancer in 2010. In an interview, Douglas said,
"After complaining for nine months and them not finding anything, and they told me I was stage four?! That was a big day." He also said that although he finished his treatment successfully, there is always the possibility the cancer could recur.
Please fill in your e-mail so we can share with you our top stories!