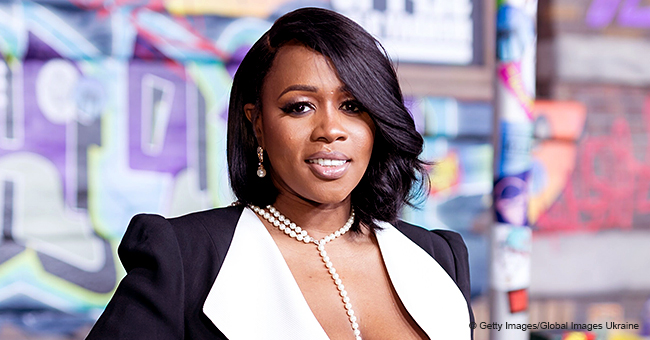 Remy Ma Melts Hearts with New Video of Adorable Exchange between Husband & 3-Month-Old Daughter
Remy Ma and Papoose shared a video on Instagram of their adorable three-months-old daughter Reminisce MacKenzie and fans just melted.
Celebrity couple Remy Ma and Papoose are utterly in love with their tiny daughter whom they have nicknamed "The Golden Child."
Remy Ma posted a heartwarming video of Papoose interacting with his daughter, and it's adorable to see the "Alphabetical Slaughter" rapper cooing over the baby.
"Her daddy, @PapoosePapoose , is soooo in love ? He talks to her ALL day long & I swear she be talkin back? and she's only 3 months old?‍?‍? Still can't believe we really made this beautiful angel."
PAPOOSE AS A DOTING DAD
The Instagram video features "The Golden Child" - Reminisce MacKenzie - and shows the baby happily cooing in her car seat, while her dad's voice can be heard telling her how much he loves her.
The sweet baby smiles and gurgles in response, and seems to be answering his endearments.
REMINISCENCE MACKENZIE RULES THE ROOST
It's easy to see that three-month-old Reminiscence MacKenzie has her famous mom and dad wrapped around her little finger, and dozens of family friends - not to mention millions of fans - dancing in attendance.
Papoose has revealed that his marriage to Remy, and Reminiscence's birth has changed his life - and his attitude towards women
THE FAMILY IS ON "LOVE & HIP HOP"
Papoose attributes the family's invitation to join the reality show "Love & Hip Hop" to their love:
"Part of it is that ourselves — our love — and our career is more visual and visible thanks to social media and television. But a bigger part of it is because we're real. My love with my wife, and my daughter is very mature."
REMINISCENCE'S ARRIVAL CHANGED PAPOOSE'S LIFE
Papoose has revealed that his marriage to Remy, and Reminiscence's birth has changed his life - and his attitude towards women:
"Now that they're in my life, I realize that we need to make an extra effort to show our women in a more positive light. The beautiful thing is, as we've been inspired to show our love in a real way, we've helped others do the same."
For fans who have been following the couple's love story and their joyful expectancy of their first child, the example Remy Ma and Papoose are setting for young couples is inspiring.
REMY MA AND PAPOOSE'S ADORABLE "GOLDEN CHILD"
It seems like it was yesterday that Remy Ma posted the first photo of "The Golden Child," but the tiny tike is now three months old.
Remy Ma and Papoose welcomed their first baby as an early Christmas present on December 14th, 2018.
"This is all a dream come true! #thegoldenchild Daddy got you forever. You are the definition of beauty."
Remy Ma and Papoose married in February 2016, and they each have children from previous relationships.
Remy has a son named Jayson., and Papoose has three children from a previous relationship.
Please fill in your e-mail so we can share with you our top stories!