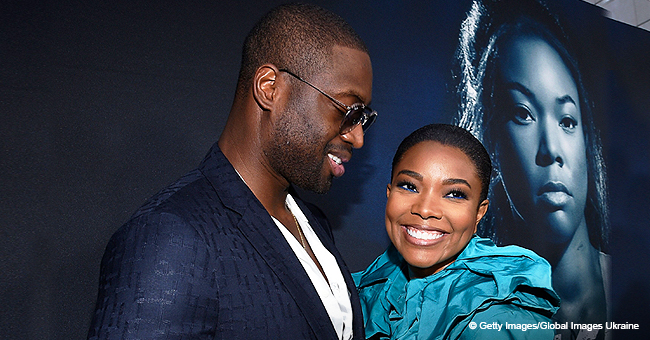 Gabrielle Union Steals Hearts with New Photo of Daughter Wearing Yellow Turban & Making Duck Lips
Gabrielle Union and Dwyane Wade's daughter, Kaavia James, has become one of the most loved celebrity babies on social media. The girl's facial expressions have fans in stitches, and in one of her recent pics, she showed off her best beach look.
Kaavia James earned the nickname "shady baby" thanks to her serious, but hilarious, facial expressions.
The 5-months-old tot has already garnered over 604k followers on her Instagram account. Her pics, paired with the funny captions written by Union, have turned Kaavia into a boss baby and social media superstar.
On one of the most recent pics shared to the account, Kaavia is looking straight to the camera with a stern expression and a pout.
She donned a yellow turban, and a matching crochet sleeveless dungaree while resting on her mother's lap as they enjoyed a beach day in Miami, Florida.
"Try me if you want to, I ain't the one. Where's Shirley?!? Don't make us run up on ya #shadybaby," the post was captioned.
Fans were quick to fill the comment section gushing about Kaavia and her outfit, as many loved the turban detail.
"This baby's facial expressions get me every time... She has definitely been here before," wrote one user.
Another added, "I just love her little face @gabunion!!! Her pictures always make me smile! No matter how serious she looks! She's beautiful."
A third one said, "This Auntie Turban! Kaavia is not the one to TRY."
And one user agreed, "I just have to say that I am a HUGE fan of this turban."
A MIRACLE BABY
Gabrielle Union and Dwyane Wade welcomed baby Kaavia James in November of 2018 via surrogate.
The couple had been trying to conceive a child for years, and Union even admitted in her book, "We're Going to Need More Wine," that she had eight or nine miscarriages and had become a prisoner of IVF treatments.
"There was a lot of pain, and a lot of disappointment," Union told Parents magazine. "I felt like I was not only disappointing myself and my spouse but all the people who'd hung a lot of hope on us. I felt like a complete loser and failure."
However, the disappointment didn't last long once Kaavia entered the world. "I felt such relief," said Union of Kaavia's arrival. And continued:
"To hear her breathing and crying was a dream. We didn't really allow ourselves to believe it until then."
Now, the little girl has taken front and center of Union and Wade's lives.
STEALING THE SHOW
Just a few days ago, Kaavia stole the spotlight at her father's press conference after his final home game, famously titled as "the last dance."
Wearing the Miami Heat's signature red to match with Dwyane's slick suit, Kaavia stole the attention as the 13-time NBA All-Star fielded questions from reporters at the American Airlines Arena.
Pulling at her father's suit, sneezing, and throwing her signature shady looks at the cameras, Kaavia earned a few amused laughs from reporters for a few minutes, until Wade finally asked someone else to pick her up.
Wade, who has three other children from two previous relationships and is also raising a nephew, revealed that he'll be putting in more time as a father now that he's retiring.
"I got a lot of kids, so I gotta do a little more fathering, and my wife has an amazing career," he said. "I gotta go to the set a little bit more to support her. I actually want to rest a little bit; play some golf, get a tan."
A STAGE MOM
Union shared pics from the lovely father-daughter duo on Kaavia's account, but instead of getting emotional about the end of an era, she made sure to add some humor by captioning the post in her usual "shady baby" mood:
"I told him to rock the headband. He went for the chest hair. Strong choice #OneLastDance @dwyanewade."
Now that Wade doesn't have to worry about upcoming basketball games, fans are expecting to see more of his parenting skills on display, something that Union has already teased a lot.
"Dwyane is like a stage mom," she recently said. "He's very hands-on. When he's in Miami, and we're in Los Angeles, he wants to know everything, from her poops to what outfit she's wearing."
The Wades are enjoying every single day with their daughter, and although Union says flies seems to fly by quickly, the proud parents couldn't be happier at the moment.
Please fill in your e-mail so we can share with you our top stories!