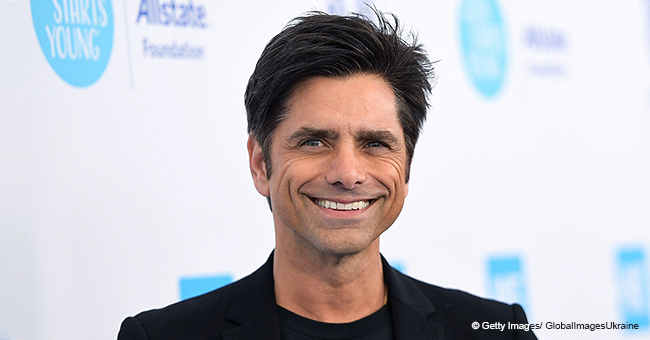 John Stamos Shares Cute Photo with Little Son in Honor of His First Birthday

John Stamos shared the cutest photo of him and his son, Billy, wearing matching outfits for his first birthday.
Proud father, John Stamos, shared the cutest photo of he and his son, giving him a birthday shoutout on Instagram. In a matching Elvis Presley outfit, the father and son posed in a similar way against a black backdrop.
"One year ago tonight, our little King was born," the caption read.
Stamos' wife, Caitlin, also took to social media a photo and greeting for their son's special day.
A year ago, the "Fuller House" actor shared the great news of his biggest dream being fulfilled on Instagram.
"From now on, the best part of me will always be my wife and my son. Welcome Billy Stamos," read the caption.
He shared that his son's name came from Stamos' late father, who inspired him to be the man he is today. Having Billy changed the actor's life as he said he can now see "all kinds of different colors" making everything "greener and bluer."
He frequently shares photos and videos of his son on his social media, showing how adorable he is; truly a blessing to him and his wife.
Stamos and Caitlin began their relationship in 2015, but met four years before that in the set of "Law & Order: SVU." In an interview with People, he said:
"I played a guy who was so egotistical that he thought he should spread his progeny, so he had like 60 kids or something. He was poking holes in condoms and stuff. And Caitlin, ironically, was one of the girls that I was trying to fool and have a baby with."
On October 2017, Stamos popped the question in Caitlin's favorite place; the happiest place on earth: Disneyland.
"He put together some of the most romantic moments from Disney and Pixar animation [in a video], and then he ended it with Sebastian from The Little Mermaid saying, 'Just ask the girl' to John," says Lara Spencer of Good Morning America.
Shortly after, they had a child, and everything else was pure bliss for the small family.
Please fill in your e-mail so we can share with you our top stories!