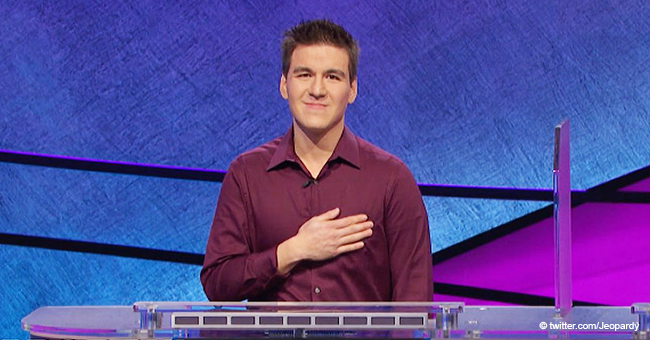 'Jeopardy' Contestant Just Broke the Single-Game Winnings Record with a Huge Total
A Las Vegas husband, father, and professional gambler has not only fulfilled his childhood dream of being a Jeopardy! contestant, but he also made history by breaking a record on the trivia show.
34-year-old James Holzhauer has left his mark on the iconic game show currently produced by Sony, stealing a record a contestant from 2010 had held for almost a decade since taking $77.000 home on a single game.
Holzhauer, who has appeared four times on the show hosted by 78-year-old Alex Trebek, had set the goal of shattering the previous record for single-day cash prizes, and he finally achieved it by winning $110.914 on April 9.
PAYING TRIBUTE TO HIS FAMILY
The said amount wasn't a random one but a nod to Holzhauer's daughter, who was born on November 9, 2014 (11-09-14), and he carefully devised each of his victories in order to add to that number.
If that is not impressive enough, Holzhauer used his past victories to pay tribute to other members of his family. He previously honored his wedding anniversary and his nephew and father's birthdays.
"My wife can never again claim I forgot our anniversary (9/8/12). By the way, honey, that counts as your gift for this year," Holzhauer wrote on Facebook after one of his winnings.
NOT ABOUT LUCK
Needlessly to say, such a calculating mind wasn't going to leave things to chance, and Holzhauer spent years preparing himself for the challenge, applying game theory to the game show in order to crack it instead.
This is something that might sound like rocket science to many of us, but he doesn't seem to find his method to be too sophisticated.
"My approach isn't complicated: Get some money, hit the Daily Doubles, bet big, and hope I run hot," Holzhauer told Wired.
He also revealed that he studied some of the show's past champions and their game style before developing his own, including the holder of the record Holzhauer just broke, Roger Craig.
"I think most people who bother to study Jeopardy! game theory are going to arrive at similar conclusions about how to best play the game. Not everyone is going to take that step, of course," Holzhauer added.
A PASSION FOR GAMBLING
Originally from Illinois, Holzhauer moved to Las Vegas in 2016 to fully dedicate to gambling on sports. He debuted on Jeopardy! on April 4, 2019, after having appeared in other game shows.
He has that in common with his wife Melissa, who won $28,800 on "Who Wants to Be a Millionaire" in 2012. The two married that same year and share a daughter born in November 2014.
Holzhauer has reportedly been gambling in Las Vegas since 2006, and in 2012 he published an essay titled "Diary of a Mad Sports Bettor" in Hardball Times about betting on baseball.
"I'm very proud of my work. Every sports book in town already knows my name, so I doubt I'm burning any bridges," Holzhauer said about the stigma associated with people who gamble for a living.
Please fill in your e-mail so we can share with you our top stories!