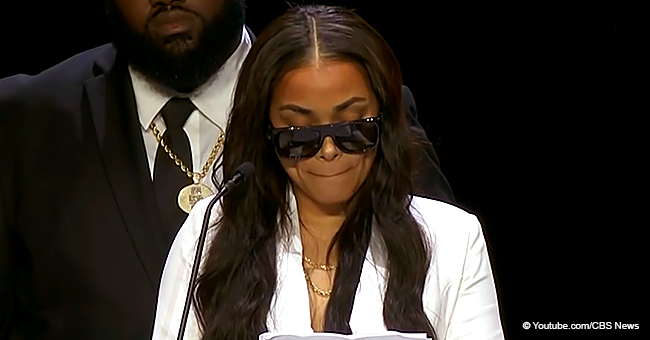 'I've Never Felt This Type of Pain Before,' Lauren London Gives Emotional Tribute to Nipsey Hussle
Lauren London broke down yesterday while paying tribute to her longtime boyfriend, rapper Nipsey Hussle, at his memorial service in Los Angeles yesterday, April 11.
The actress, who started dating Hussle in 2013, reminisced on their life together and opened up about Hussle's impact in her life, his legacy, and her pain for their two-year-old son, Kross.
A PAINFUL TASK
"Never was I prepared for anything like this, so bear with me y'all," London began, addressing the crowd at the filled-to-capacity Staples Center where the ceremony took place.
Shouts of "Take your time, Lauren!" rent the air before the actress, dressed in a white dress and black sunglasses, proceeded to read out a message she composed for her heartthrob in January, two months before his gruesome murder.
London, 34, revealed that she composed the text while watching Hussle (birth name Ermias Asghedom) sleep so that he could read it when he woke.
"Ermias, I want you to know I feel real joy in my heart when I'm around you. I feel safe around you; protected. Like a shield over me when you're around, I am totally myself when I'm with you," the text read.
'I'M NEVER GONNA GIVE UP ON YOU'
The message continued:
"You've made me into more of a woman. You've given me the opportunity to really love a man. You've been with me while I've been sick; through all my fears. …I just want you to know that you've been the greatest boyfriend to me. You aren't perfect, but I would never ask you to be. You and I work. We fit, and you're the coolest guy in the world to me, still. I love you so much, unconditionally. My truth is this: I'm never gonna give up on you and my love and devotion is to you."
A DIVINE SOUL CUT SHORT
"I had to write something because I've never felt this type of pain before," London addressed the crowd before reading a eulogy she had prepared for the memorial.
"His soul was majestic. He was the strongest man that I ever knew; a gentle father, a patient leader, a divine light," she added while trying to hold back tears. "He was brilliant. He researched everything, completely self-taught, constantly seeking knowledge. He would go to bed and listen to these audiobooks in his headphones."
A FAMILY'S PAIN
London recalled how Hussle would play music and light a sage around the house in the morning for her and the kids so that "our energy going outside would be uplifted and that we could handle the day."
Tearing up, the actress said:
"My pain is for my two-year-old that probably won't remember how much his dad loved him."
'GRIEF IS THE FINAL ACT OF LOVE'
Before his death, Hussle and London formed a close-knit family with their kids: two-year-old Kross, London's nine-year-old son from a previous relationship, Cameron, and Hussle's seven-year-old daughter with an ex, Emani.
London quoted one of Hussle's sayings before addressing him directly:
"To Ermias, the love of my life. You know what it is. Grief is the final act of love. My heart hears you, I feel you everywhere. I'm so grateful that I had you. I love you beyond this Earth and until we meet again, the Marathon continues."
LOST WITHOUT HUSSLE
London previously paid tribute to her late beau with a heartbreaking Instagram message after his death. "I'm lost without you. We are lost without you babe," she confessed at the time.
Hussle died 35 minutes after getting shot multiple times outside his south LA clothing store "The Marathon" on Sunday, March 31. He was 33.
29-year-old Eric Holder has been arrested as a suspect in the shooting and, according to the LAPD, has been charged with one count of murder, two counts of attempted murder and one count of possession of a firearm by a felon.
Please fill in your e-mail so we can share with you our top stories!