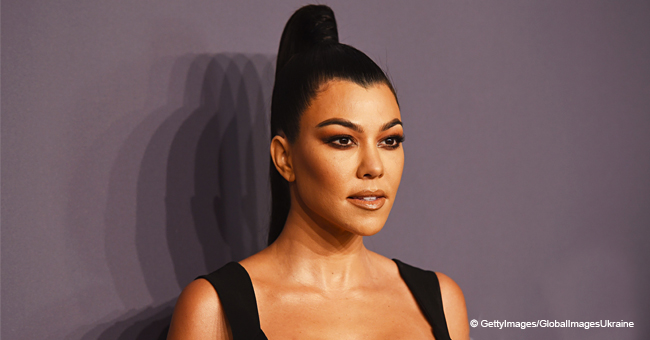 Kourtney Kardashian Receives Hilarious Birthday Wishes from Her Family
Kourtney Kardashian is about to turn 40, and her family already started celebrating the milestone with sweet messages.
Kardashian sisters Kim and Khloé along with ex-boyfriend Scott Disick and their two eldest children Penelope and Mason came together for a surprise birthday video released by E! News on Thursday.
"Good Lordy, you're turning 40, Kourtney. I can't believe this is how old you are," Kim laughingly kicked off the video. "When I think of you and your birthday, I think of dancing drunken nights in Mexico, so I can only imagine how big we're gonna do it up for your 40th birthday," she added.
38-year-old Kim thanked Kourtney for "being the best sister" and "the best mentor" she had always been proud of while 34-year-old Khloé got all cheesy as she said:
"You will always be the Jane to my Suzanne, the Reese's to my Pieces, the peanut butter to my jelly. I really can't imagine my life without you. I love you so much. I think you are one of the funniest people I know when you're actually paying attention at life."
An endearing message from Scott followed next. With him and Kourtney's nine-year-old son Mason beside him, Scott began, "We love you so much. We appreciate everything you do and do for us. And you are a wonderful, wonderful mom. We want to see you get older and shrink and get smaller."
But Mason didn't like the idea of his mother shrinking and exclaimed, "I don't want her to shrink!"
As much excitement as there is around Kourtney's birthday, another birthday in the family is causing the opposite.
Khloé will celebrate her daughter True's first birthday on April 12, and it has the 33-year-old mother feeling anxious.
She left Tristan Thompson for good following the last cheating scandal earlier this year, where he got accused of philandering with a longtime family friend Jordyn Woods.
Earlier in the month, a source told PEOPLE that Khloé is trying to find the best way to celebrate True's birthday since Kim already said that there is no way she can "keep it together and not lose it on him."
On April 10, Khloé took to Twitter conflicted by her feelings of anxiety as she wrote:
Khloé wants to avoid drama, and above all, she doesn't want the situation to have an impact on True as the source added:
"She's very good at compartmentalizing, and at the end of the day, she wants True to have a happy relationship with both of her parents. She's not one to seek revenge or hold on to negativity."
Kourtney recently had another reason for celebrating as her new lifestyle website, and e-commerce platform went live. In its promotion, Kourtney posted an image that had fans divided as they commented on both her racy picture and the actual website.
Please fill in your e-mail so we can share with you our top stories!