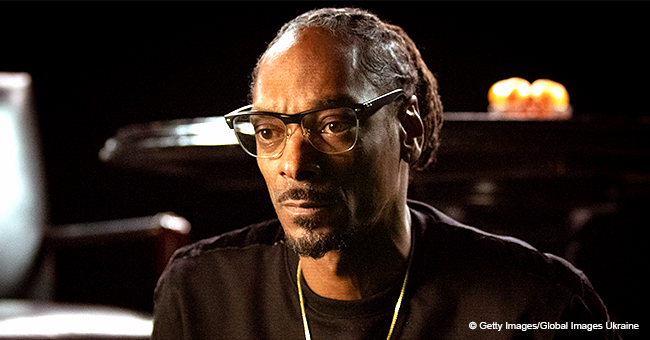 Snoop Dogg Shares Memories and Pays Respects to Nipsey Hussle as Memorial Draws 21,000
Snoop Dogg joined thousands of other fans and celebrities yesterday, April 11, to pay tribute to the life of fellow rapper Nipsey Hussle who was murdered almost two weeks ago.
Snoop was one of 21,000 people who filled the Staples Center in honor of Hussle on Thursday and the "Gin and Juice" rapper, known for his tough, gangster exterior, had to hold back tears as he came on stage to reminisce on the life of a man he described as "my friend [and] brother."
The 47-year-old recalled the first time Hussle approached him with a mixtape, highlighting the latter's willingness to work hard for success.
"Most rappers when they push up on Snoop Dogg with a tape, this is their line: 'Hey Dogg, listen to my music. I can make you a million dollars.' Nipsey's line was: 'Hey homie, listen to my music. Just give it a listen.' [I said] 'That's it? No record deal? You don't wanna get put on?' So, to me, he had vision to know and understand that 'I don't want to be handed out nothing!'"
Snoop revealed that he was very impressed when he eventually listened to Hussle's tape. "Long story short, we ended up connecting," he said. "We ended up making music together. We ended up making a brotherhood, creating a bond."
CARRYING THE SAME SPIRIT
Pointing out that Hussle (born Ermias Asghedom) was often compared to him because of their similar physical features and gang affiliations, Snoop insisted that the late rapper was an enigma all by himself.
The rap legend, however, agreed that he and Hussle had something more significant in common.
"One thing that me and Nip had was a kind spirit. We had that spirit of love. …When we met each other, it was like a magnet coming together," Snoop noted. "We had the same spirit, but what was crazy was Nip's mentality was stronger than a rapper that's been in the game for 15 years."
SUPPORTING THE FAMILY
During his emotional speech, Snoop also extended the love to Lauren London, Hussle's longtime girlfriend with whom the late rapper shared a two-year-old son.
"I wanna send Lauren a lot of love for being the beloved queen to our king," Snoop said before going on to thank Hussle's father for showing his son "how to be a strong black man" and Hussle's mother for being a source of strength to others in dealing with the grief.
GOODBYE TO A GREAT MAN
Concluding his tribute with a line that had the entire crowd responding with applause, Snoop chanted:
"For God so loved the world that he gave us a good Crip,

The late, great, Neighborhood Nip.

Rest In Peace, fella!"
MEMORIAL SERVICE FIT FOR A KING
Hussle's three-hour memorial service featured several emotional tributes and performances from family, friends, and celebrities who gathered to celebrate the life of the late rapper, entrepreneur, and community activist.
Before his death, Hussle had a meeting planned with the police to discuss how to reduce gang violence in his neighborhood where he had also created several businesses and job opportunities for young and old alike.
PRESIDENT OBAMA PAYS TRIBUTE
Former president of the United States Barack Obama recognized the late Eritrean-American rapper's community activism in a letter read during the memorial service by Hussle's business partner Karen Civil.
"While most folks look at Crenshaw and see only gangs and despair, Nipsey saw potential. He saw hope. His choice to invest in that community rather than ignore it, to build a skills training center and a co-working space in Crenshaw, to lift up the Eritrean-American community, to set an example for young people to follow, is a legacy worthy of celebration."
A FAMILY IN MOURNING
Baring her heart in a moving eulogy, London, 34, described Hussle as the love of her life and the strongest man she ever knew while lamenting that their son would probably not "remember how much his dad loved him."
Before his death, Hussle and London formed a close-knit family with their kids: two-year-old Kross, London's nine-year-old son from a previous relationship, Cameron, and Hussle's seven-year-old daughter with an ex, Emani.
The actress also came on stage with their kids during the service, and Cameron calmly described a dream encounter with Hussle two days after he was murdered.
CELEBRITIES SAY GOODBYE
Stevie Wonder, Jhene Aiko, Anthony Hamilton, and Marsha Ambrosius delivered musical tributes to the late icon, and other famous faces present include Beyoncé and Jay-Z, Kendrick Lamar, Nation of Islam leader, Louis Farrakhan.
Following a procession through the city, Hussle's body was laid to rest at the Forest Lawn Memorial Cemetery.
UNFORGETTABLE TRAGEDY
Hussle died 35 minutes after getting shot multiple times outside his Crenshaw and Slauson south LA clothing store "The Marathon" on Sunday, March 31. He was 33.
29-year-old Eric Holder has been arrested as a suspect in the shooting and has since been charged with one count of murder, two counts of attempted murder and one count of possession of a firearm by a felon.
Holder, an aspiring rapper, could face a maximum sentence of life in state prison if convicted.
Please fill in your e-mail so we can share with you our top stories!