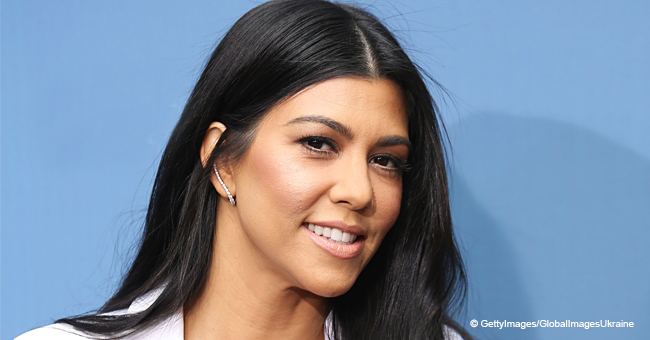 Kourtney Kardashian Dazzles in $275 Gold Bikini, Poses in a Hot Tub Ahead of Her 40th Birthday
The oldest Kardashian sister is days away from reaching the milestone, and she started commemorating the occasion early, with a birthday getaway to Finland the first week of April, flaunting her toned body in a bikini.
True to the Throwback Thursday spirit on Instagram, 39-year-old Kourtney Kardashian took to the social network on April 11 to share a photo from her recent trip to Finland that shows her bathing in a hot tub surrounded by snow.
In the image, the mother-of-three is wearing a revealing metallic gold bikini by designer Lisa Marie Fernandez, with an estimated cost of £257, which is around $336.
Kardashian looked at the camera from the corner of a massive hot tub in the middle of a winter forest landscape, looking fairly youthful and attractive with her loose dark hair.
"Hei," Kardashian simply captioned the snapshot, greeting her fans in Finnish. The image was liked by more than 1.8 million users in the first 24 hours.
"OMG, 39 never looked so good," a user commented, in case Kardashian needed some kind of reassurance about her self-image.
"Hei Kourt! So glad you enjoyed Finland. You should absolutely come in the summer also, to see the amazing summer nights here!" a Finnish resident recommended her.
Apart from her upcoming birthday, Kardashian has other reasons to celebrate, like the recent launch of her lifestyle brand/website Poosh early in March.
As Daily Mail reported, Kardashian traveled with her three children, Mason (9), Penelope (6), and Reign (4).Her former boyfriend and father of her children, Scott Disick, with whom she remains good friends, also traveled along, even bringing his girlfriend Sofia Richie with him.
According to Inquisitr, Kardashian is planning an over-the-top celebration for her 40th birthday, with sources telling the news outlet that she wants a sexy party that would include topless waiters and erotic dancers.
"Kourtney insists turning 40 is no big deal for her, but there's definitely an element of her wanting to feel young and lusted after," an insider shared with Radar Online in February.
In the recent interview Kourtney and her sisters Kim and Khloé gave with Jimmy Kimmel in Las Vegas, they revealed that Khloé is helping put the party together following Kourtney's strict rules about it.
Despite her actual birthday being April 18, Kourtney's relatives have already advanced some of their congratulatory messages to her, with younger sister Kim referring to the milestone birthday in a "Keeping Up With the Kardashians" preview.
"Good lordy, you're turning 40! I can't even believe this is how old you are! When I think of you and your birthday, I think of dancing drunken nights in Mexico. So, I can only imagine how big we're gonna do it up for your 40th birthday."
-Kim Kardashian, E! News, April 11, 2019.
"I hope you drink tequila until you vomit all over yourself and sleep in it because you actually have done that a couple of times," Khloé said, teasing her older sister.
Kourtney's daughter Penelope did her part to make her mother feel young as she approaches a new decade of her life, although she might have overdone it. "You look like a one-year-old," Penelope said.
"Keeping Up with the Kardashians" will mark Kourtney's special occasion with an all-day marathon on April 14, apart from featuring a commemorative episode titled "Kourtney's Pop-Up Birthday!"
Please fill in your e-mail so we can share with you our top stories!