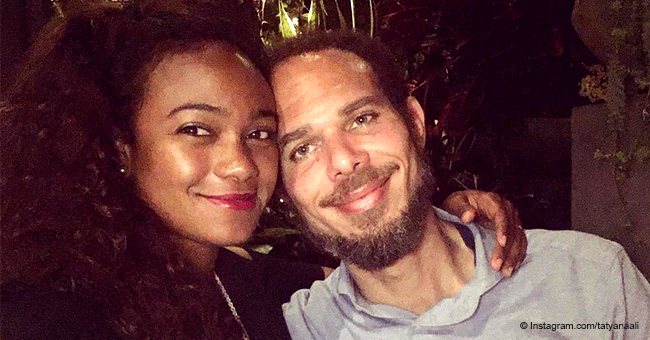 Tatyana Ali Reveals She's Expecting 2nd Child with Husband Vaughn Rasberry, Shows off Her Baby Bump
Former "Fresh Prince of Bel-Air" child star Tatyana Ali has revealed that she and her husband who she met online are expecting their second child.
Congratulations are in order for Ali and her hubby, Dr. Vaughn Rasberry, as the couple gets ready to welcome a new addition into their family of three.
Ali shared the good news on social media recently, posting a photo of herself in a lovely black ensemble to Instagram. The actress glowed in a black midi gown and matching shoes while cradling her bump and announced:
"I was on a work trip recently and I thought it was about time I captured my baby bump. We're so excited! They say every pregnancy is different and they ain't lying. Phew! I'm exhausted this go round, swirling with emotion and starving, like constantly. Feeling very blessed. #BabyRasberry"
Ali, 40, and Rasberry, who is an associate professor of English at Stanford University, met on the dating website eHarmony. Not too long after, they tied the knot on July 17, 2016, in an intimate Caribbean-themed ceremony that took place at the Four Seasons in Beverly Hills, California.
"It brings tears to my eyes just thinking about it. I am so grateful that I have been able to feed him in this way."
Ali and Rasberry welcomed their first child, son Edward Aszard, in September of 2016 and the "Christmas Everlasting" star's Instagram feed is full of precious family moments with their son.
Last August, Ali paid tribute to Black Breastfeeding Week with an Instagram picture of herself feeding her son along with the hashtag "normalize breastfeeding."
A month earlier, Ali had opened up about her breastfeeding experience in a moving post. "I encourage everyone who can breastfeed long term to do so. It's so good for your baby," she advised.
Ali continued:
"Breastfeeding him [Edward Aszard] has truly been one of the greatest experiences of my whole entire life. I love looking down and seeing him latched on, feeling his cheeks so close to my heart. I love giving him nourishment, giving him my life force and most of all comfort. It brings tears to my eyes just thinking about it. I am so grateful that I have been able to feed him in this way for so long- my beautiful baby boy."
From every indication, Ali is a doting mom, and we're sure the new baby will have one of the best mamas ever.
Ali played Ashley Banks on "The Fresh Prince Of Bel Air" from 1990 to 1996 alongside co-stars like Will Smith, Alfonso Ribeiro, Karen Parsons, and the late James Avery.
Please fill in your e-mail so we can share with you our top stories!