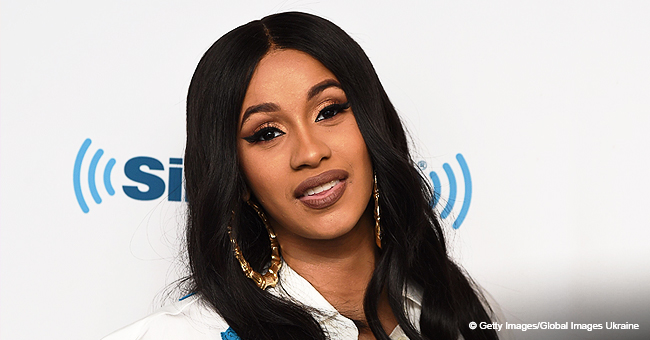 Cardi B Says Hanging out with Kaby Kulture Is a 'Slice of Heaven' and Claims She Is a 'Good Mom'
Cardi B opened up about the difficulties of balancing a high-powered music career with motherhood.
Cardi B life has changed a lot over the last 12 months. The award-winning rapper went from being footloose and fancy-free to become the mother of an adorable baby.
In July 2018 Cardi B and husband Offset welcomed their first child together, a little girl they named Kulture Kiari Cephus.
"She is so fun, she is cool, like, I love her, she's like my little best friend. She just makes the gloomiest days like sunshine. I love it. It's is slice of heaven."
CARDI B LOVES BEING A MOM
The glamorous rapper is confident that she is a good mother, and describes little Kulture as her "little best friend."
The 26-year-old mom confessed that she had initially considered hiring a nanny to help her raise Kulture, but ultimately decided to do it on her own.
THE CHALLENGE OF BEING A WORKING MOM
For a performer, being a working mom is a great challenge, Cardi B admitted. Being on the road with a baby is no walk in the park:
"You're scared to get a nanny because you don't want anybody around them. You cannot just travel with your baby all the time, like they get sick."
BEING MOM IN DESIGNER CLOTHES
Cardi B spoke openly about the difficulties of combining her passion for high fashion and motherhood. She revealed that she takes off her designer outfits when its time to change a diaper or feed Kulture.
The new mom is making a movie with Jeniffer Lopez in which she plays a stripper.
BEING A PRACTICAL HANDS-ON MOM
Cardi B has discovered that being a mom has made her a lot more practical. She revealed that she has given up dressing Kulture in designer clothes, in favor of off-the-rack onesies:
"You wanna know something funny? You buy so many clothes for babies and then the couture stuff and the expensive name brand stuff, you put it on her and then it's like right away she throws up, she drools, or she might crap on it and she'll end up being in a Target outfit, like a Target onesie."
Cardi B is now taking on a new challenge in addition to her highly successful singing career and motherhood. The new mom is making a movie with Jeniffer Lopez in which she plays a stripper.
CARDI B'S NEW MOVIE WITH J-LO
Cardi B's screen debut will be alongside none other than singing legend and actress Jennifer Lopez.
The rapper will be playing a former stripper who teams up with other disgruntled exotic dancers to con their former Wall Street clients in Lopez's new project, "Hustlers."
The film will bring together Lopez and Constance Wu as the main characters, with Lili Reinhart, Keke Palmer, Julia Stiles, and Mercedes Ruehl adding star power to the dazzling cast list.
Cardi B worked as a stripper before becoming a musician and has credited the experience with giving her valuable life-skills.
Please fill in your e-mail so we can share with you our top stories!