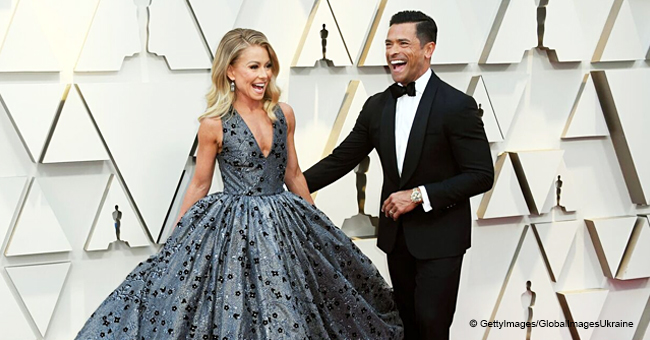 Kelly Ripa Shares Throwback Photo with Husband and Fans Notice How Little She's Aged
Walking down memory lane, Kelly Ripa shared a throwback photo of herself and Mark Consuelos which was taken 12 years ago to her Instagram account. Seems like the couple has not age at all!
The "Live with Kelly and Ryan" host looks as beautiful as ever and the throwback photo proves she hasn't aged much.
Snapped back in 2007, the photo features Kelly and her husband Mark giving a standing ovation during an event. We can't help but notice how adorable they look together!
Kelly and Mark look stunning in black ensembles as they cheered at the event. While a cheerful Kelly is seen facing forward to cheer at the event, Mark looked back as if he wanted to leave. The TV host joked that he was looking for an escape route in the caption.
"#fbf 2007. When giving a standing ovation always remember to keep an eye out for the quickest escape possible," she captioned the post.
Fans were quick to notice how Kelly stills looks the same as she did in the photo from over a decade ago.
"Do you guys even age? You look great as ever!" one fan wrote. Another fan chimed in, saying the photo looks as though it was taken in 2019.
Some fans jokingly expressed how jealous they were, saying it is almost "infuriating" to see them defy age.
The duo gives us serious aging goals but the fact that they have been together for all these years is more enviable. After all these years of marriage, Kelly and Mark are still going strong.
Kelly and Mark got married on May 1, 1996, and share three wonderful children, Michael Joseph, 21, Lola Grace, 19, and Joaquin Antonio, 15.
The former soap opera actress shared how she fell in love with her husband, saying a photograph was the reason why she went from a hopeless romantic to a woman in love.
"I was not a hopeless romantic. I never thought about getting married. It never occurred to me that I would grow old with someone. I just thought I would be living my single girl life in the city," she revealed during an interview. "I had no responsibilities and I was earning a good living on the soap opera...So when I saw him, the photograph of him, I saw my entire future with him flash before [my eyes]. Like. I saw it. I [didn't] believe in any of that and now I do because of that moment."
The couple never looked back ever since they started dating in 1995. They got married after a year of dating and share a loving relationship to this date. If that is not couple goals, we don't know what is.
Please fill in your e-mail so we can share with you our top stories!