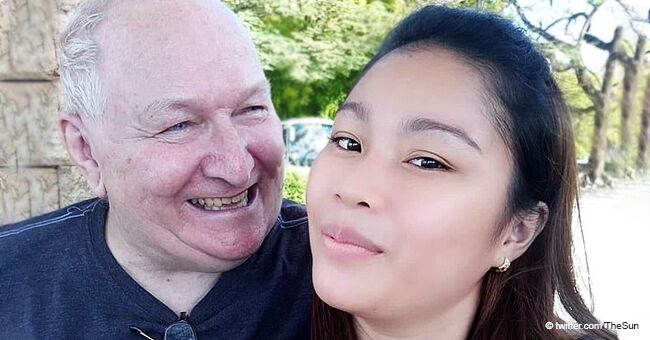 23-Year-Old Housewife Who Married a 71-Year-Old Addresses Those Who Call Her a 'Mail Order Bride'
Lorie fe Dales, 23, who's married to Thomas Greig, 71, clapped back at bashers who call her a "mail order bride" — and insisted they're in love.
In 2014, Lorie, from Cebu, Philippines, was approached by retired entrepreneur, Thomas, from Wallasey, Wirral, on Facebook after he fell for her long dark hair and stated it was "love at first sight."
"People think that our ages' matters and my husband has bought himself a mail order bride, but it's not true."
At first, Lorie was shocked by his age but says she soon warmed to his personality. In July of that year, Thomas traveled to where she lives for her birthday. That was also their first date, and the two became exclusive.
Their whirlwind romance leads Thomas to propose to her that December and they tied the knot in January 2015.
The couple's first child, daughter Mary, was born in June 2016 and Thomas currently splits his time between the United Kingdom and the Philippines.
He spends around five months of the year with Lorie and their little girl and the rest in the UK. The pair said they're a happy family in spite of having to communicate through Skype.
While their families have acknowledged their relationship, according to Lorie, they have received negative feedback from other people who accuse her of being a "mail order bride."
"We met on Facebook," Lorie clarified. "It just happened, it was destiny."
Lorie said that while there is trust and loyalty between her and her husband, the distance made things challenging in the beginning. However, they now meet up consistently and Skype daily.
"We communicate through Skype every day, and we always see each other, so that makes me feel ok as soon as we are near to each other," she said. "The most difficult thing about our relationship is that it is long distance."
Lorie added: "People think that our ages' matters and my husband has bought himself a mail order bride, but it's not true. Our relationship hasn't been easy so far, there have been ups and downs, but we both reassure each other, and we are happily married."
"Our plan for the future is to give the best to our daughter," she continued. "Sometimes I do feel like I need him at my side to look after our baby together, but I just look on the bright side about why we are in this situation."
Previously, a 27-year-old woman became a stepmother to her best friend after marrying her twice older father.
And a Kansas teen, 19, married a man 43 years her senior and is bothered by people's reactions every time she and her much older husband display their affection in public.
Please fill in your e-mail so we can share with you our top stories!