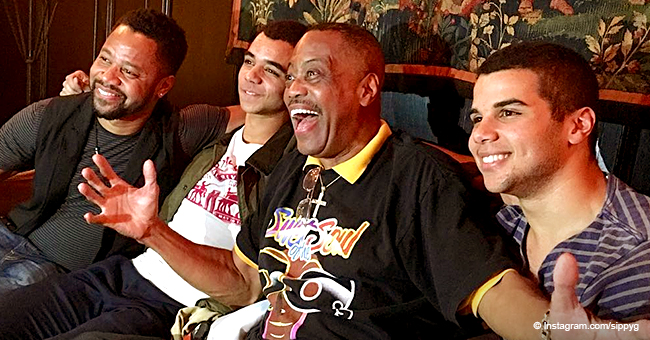 Cuba Gooding Jr. Is a Proud Father of 2 Grown-Up Sons Who Bear a Striking Resemblance to Him
A lot can be said for Cuba Gooding Jr., but not many know that the phenomenal actor is a father to two grown-up sons and still sheds tears now and then. Cuba was also recently rumored to be romantically involved with the daughter-in-law of another famous actor.
The "Jerry Maguire" star and his estranged wife Sara Kapfer share three kids: sons Spencer and Mason, and daughter Piper.
Several pictures from Spencer's Instagram reveal that the Gooding family is a tight-knit clan. In one photo from December of 2015, Spencer, Mason, and their father posed with their now-late grandfather, the legendary Cuba Gooding Sr.
Cuba Sr. was a '70s soul music icon who was found dead in his car in 2017. Cuba Sr. had four kids who all followed his footsteps in entertainment, including April, Tommy, and Omar, best known for his role in the ABC series, "Hanging with Mr. Cooper."
Cuba Jr's sons are also very close to their uncle, Omar. For Christmas 2017, Spencer and Mason spent time with their dad and Omar who at the time had also welcomed a son of his own, Omar Jr.
The 51-year-old has been spotted several times getting cozy with Claudine De Niro
The boys' closeness to their Oscar-winning dad may have a lot to do with Cuba Jr. putting his kids first in everything.
During a December 2017 appearance on the "Steve TV Show," the actor explained that he and his ex-wife still maintain a relationship because of their kids.
"We got kids, man. We got to keep this together, strong, you know? That's how I see it," Cuba Jr. said.
The "American Crime Story" star also confessed last year that he "cried like a little girl" at the college graduation ceremony of Spencer, 24.
"Now he's got this executive position working with a company, so I'm very proud of him," Cuba Jr. told People Magazine.
Keeping fans up to date with his other 22-year-old son, Mason, Cuba Jr. revealed the young man is following in his father's footsteps:
"My youngest son Mason just did a stint on Ballers with Dwayne 'The Rock' Johnson as one of the characters in that, and he's got a new indie movie that he's starring in."
While Cuba Jr. seems to be enjoying the "dad" life, he also appears to be making moves with personal relationships.
The 51-year-old has been spotted several times getting cozy with Claudine De Niro, the estranged daughter-in-law of actor Robert De Niro's son, Raphael. Cuba Jr. and Robert co-starred in the 2000-released film, "Men of Honor."
Rumors linking Cuba Jr. and Claudine first surfaced in 2018 and in March 2019, the couple was seen having fun at the Miami Beach.
Cuba Jr. filed for divorce from his high school sweetheart Sara in January 2017 after more than 20 years of marriage, but it was Sara who first filed for legal separation in 2014.
Please fill in your e-mail so we can share with you our top stories!