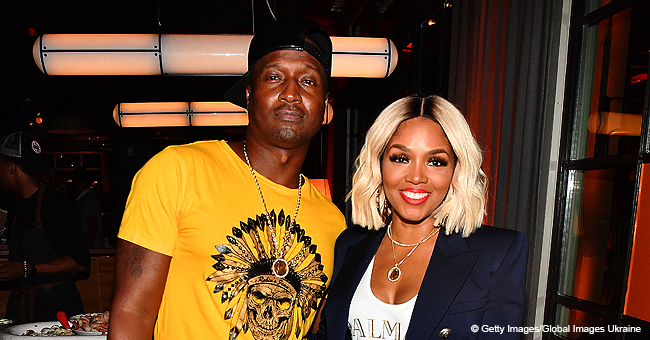 Rasheeda & Kirk Frost Slammed after Son Goes to Prom in Helicopter

Rasheeda and Kirk Frost's idea of a great prom night for their son Ky involved a private chopper. Some fans have however lashed out at the couple over their extravagance after the duo shared the video of their son and his date going to prom in a chopper.
Ky Frost and his longtime girlfriend, Madison Shaw started prom night on a high note after the teenager's parents decided to give them a prom treat to remember. The young couple flew to their prom night on a private helicopter provided by Rasheeda and Kirk.
The video of the two has gone viral after being posted on Instagram by Ky's parents, eliciting a varying degree of reactions from fans. Images were also posted of the young couple and Ky's parents before they boarded the chopper, while another image shows them alone just before they boarded.
In the video, Ky and Madison are seen in the helicopter, flying over the neighborhood on their way to prom. The video and images all look sweet. Ky and his girlfriend wore Nipsey blue matching outfits in a tribute to the late rapper Nipsey Hussle.
Many have watched the viral video, and it has led to an equal dose of negative and positive comments from fans of Rasheeda. Some felt the act was too extravagant and criticized the "Love and Hip Hop: Atlanta" actress and her husband for being too wasteful.
Many others wondered about when prom nights seized from being simple to becoming extravagant to the extent of using helicopters. Others also thought proms were fast becoming more expensive than weddings while a few wondered what Ky would get when he gets a degree, after getting a helicopter for prom. Others viewed the matter from the humanitarian aspect, saying the money spent on the chopper could have been used for a better cause.
There were also comments in favor of the couple. Some asked people to mind their business, asking haters to get a helicopter if they wanted and keep quiet if they couldn't afford it. Others commended the couple for their action, saying it was only haters that would think negatively about the act.
What are your thoughts on the video? Did Rasheeda and Kirk go overboard in giving Ky a prom to remember? Rasheeda and Kirk Frost are not the only celebrities with helicopter fame.
Other celebrities have also gone on trips with private choppers or private jets and posted on Instagram. The list includes the likes of Kylie Jenner and Travis Scott, Jacquees and Dreezy, Serena Williams and Marsai Martin to name a few. It is quite a list. Find out more here.
Please fill in your e-mail so we can share with you our top stories!