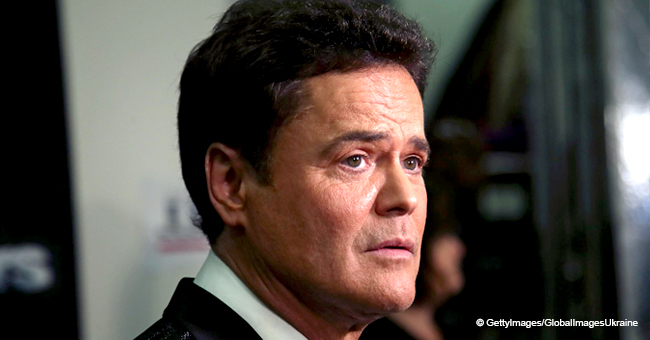 Donny Osmond Pays Tribute to His Late Friend Who's Been 'like Family' to Him

Donny and Marie Osmond shared the loss of their longtime friend and style guru who passed away on Sunday after he suffered a "very serious health event."
Kim Goodwin served as the pair's hair and makeup artist for years and became "like family" to the Osmonds.
On Monday, Donny posted an update on social media about Kim, who initially got hospitalized on January 19, to share that he had passed. "I am heartbroken to inform you that my friend Kim Goodwin passed away on Sunday afternoon," Donny wrote.
The retired entertainer shared that even though his close friend became bedridden, he still "laughed and joked" about memories of times gone by.
Their late friend did both his and Marie's makeup and hair, along with all their publicity shots for many years, while Donny added how their whole team would miss their "unbelievably talented" friend dearly.
When first hospitalized, Marie kept fans updated on his condition and asked for prayers that he would make a full recovery:
On February 5, Marie posted an update with smiles all around as Kim's first surgery "went well" ahead of his quintuple bypass.
However, shortly before Kim's death on April 12, Marie shared a touching update of how her dear friend reconnected with "the love of his life" and announced that they were getting married that evening:
When Marie shared the news of Kim's passing on social media, she found solace in the fact that her best friend left this world "knowing he was loved," and added:
"It was so joyful for me to see him have experienced so much love in his final days. I miss you so much already my Kimchi but know you're surrounded in God's love! My dearest friend."
During the time Kim spent in the hospital, Donny and Marie made a big announcement much to the dismay of their fans.
Donny posted the news on Twitter on March 21. "IT'S OFFICIAL!" he began the post, "@marieosmond & I will conclude our #LasVegas residency @FlamingoVegas. We never expected our 6-week run to turn into 11 years, but we're so glad that it did.," Donny concluded the post.
The brother and sister duo's residency at the Flamingo Las Vegas Hotel and Casino will come to an end on November 16 after which they will continue to pursue individual projects.
Sadly, with the death of Kim and the announcement of the end of their Vegas run, the chapter on a much-loved era will come to a close, and some speculated that a family feud caused the residency to end.
However, Donny and Marie were quick to set the record straight as they answered some questions regarding the decisions they made about their future careers.
Please fill in your e-mail so we can share with you our top stories!