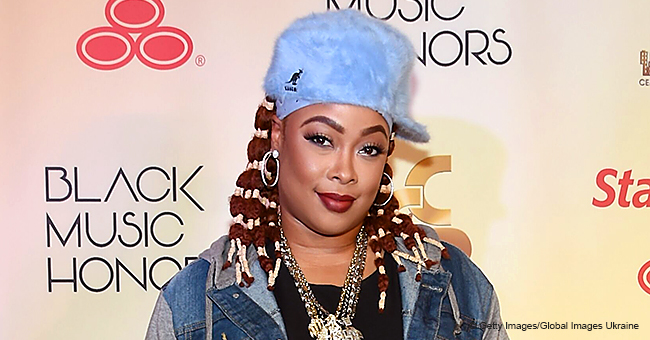 Da Brat Poses for Rare Photo with Mom Who Looks 'so Young'
Social media users are freaking out over how young Da Brat's mom looks in a recent photo shared to Instagram. The rapper has always been complimented about her youthful appearance, and now we know where she got it.
At 44, Da Brat (birth name Shawntae Harris) is an avid fan of T-shirts, hoodies, and baggy pants, and she has the face to pull it off.
Taking to Instagram recently with a rare photo of her mom, the rapper/radio host finally provided the secret to her fountain of youth: good genes.
Da Brat and her lookalike mom wore matching purple outfits while sporting large sunglasses and full makeup. It was also clear that the "Funkdafied" hitmaker inherited her adventurous fashion sense from her mom who flaunted long, blue braids.
"Me and Momz," Da Brat wrote in the caption, along with a Purple Heart emoji.
SOCIAL MEDIA THUMBS-UP
In no time, the comment section was filled with compliments from celebrities and followers alike, with most pointing out that the rapper's mom looked more like her sister.
"Ok, I see where you get your pretty from" ~@evamarcille
"Your mom?!? She looks like your older sis! You got some good genes" ~@msfeliciam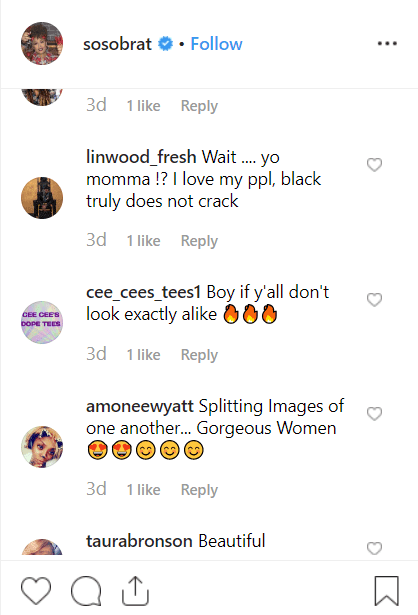 Screenshot of users' comments on Da Brat's Instagram post. | Photo: Instagram/Da Brat
"Look at those amazing genes. You two look like sisters. Beautiful" ~@she_shall_not_fail
"Beautiful. Now we see where u get [your] style [and] beauty from" ~@noodle152018
IT RUNS IN BOTH SIDES OF THE FAMILY
Although it's clear Da Brat picked up some ageless genes from her mom, she probably had some from her dad's side as well.
Da Brat's late dad David Ray McCoy, according to ILOSM, was murdered way back in 1988 but he lives on in the rapper and her actress half-sister, LisaRaye McCoy. Besides her acting prowess, the 51-year-old LisaRaye is also known for her ageless look.
A SISTER'S BOND
Despite having different mothers, Da Brat and LisaRaye share a close bond. The "All of Us" actress joined her sister last year to celebrate the end of her 7-year probation.
Also, in a "Growing Up Hip-Hop: Atlanta" clip last December, LisaRaye got emotional as DaBrat recounted her financial woes and took responsibility for the actions that earned her a prison sentence of three years.
TROUBLE WITH THE LAW
In 2007, Da Brat was involved in an altercation that resulted in her smashing a bottle of champagne on the head of Shayla Stevens, a former NFL cheerleader.
After being sentenced to three months in prison, the "Dish Nation" co-host was ordered by the court to pay $6 million to Stevens.
MORE TROUBLE WITH PAYING THE SETTLEMENT
"It started out at like $6.4 million, then it got some interest on it, and I think it's at like eight-something now," Da Brat, who filed for bankruptcy last August, said in a "Growing Up Hip-Hop" confessional. "I ain't never had $8 million."
Stevens, meanwhile, has been fighting to get her settlement with one legal action after another. In January, she approached the court with claims that Da Brat was hiding her assets and asked that the judge dismiss the rapper's bankruptcy request.
LEMONS & LEMONADE
Da Brat has since made peace with her past and even once admitted that her time in jail served a purpose.
"I think God does everything for a reason and it was meant for me to sit down and regroup and think things over and realize I shouldn't take anything for granted."
"I have to be very careful about my actions and what I say to people and how I react," she continued. "I think I am a better person, a wiser person, a smarter person who is not going to take anything for granted anymore."
Please fill in your e-mail so we can share with you our top stories!