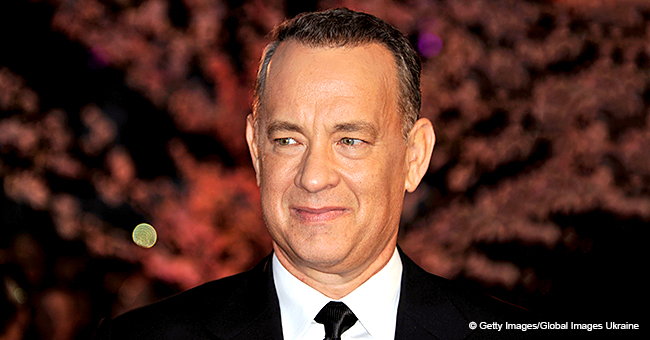 Tom Hanks' Son Chet Cuddles and Laughs with His Daughter in New Video

Little Michaiah, Chet Hanks' three-year-old daughter has made an updated rare appearance at her father's Instagram account after the two enjoyed a day out, and they look like they have the most loving relationship.
The toddler has grown much in the last year, as can be seen in a video and photo shared by 28-year-old Chester "Chet" Hanks on his Instagram feed on April 12, when the father and daughter had a fun date.
As Chet has admitted before, Michaiah, born in April 2016, changed his life for the best by giving him the inspiration he needed to leave his addictions behind, and he has reinvented himself as a devoted father.
A LOVING FATHER
"Only person in the universe that can puke on me and I won't even care," Chet jokingly captioned a snapshot of him and Michaiah having lunch together and adorably looking at each other.
In addition to the picture, Chet posted a video that shows him challenging Michaiah to scare him. In the clip, Chet puts his acting skills to use to pretend to be really scared, to his daughter's great amusement.
"Literally done this 60 times now," the proud father captioned the video, making clear once again how much he enjoys spending quality time with his beloved little girl.
A few weeks earlier, Chet posted a photo of him and Michaiah making gestures to the camera, with the latter wearing the same pink dress with flowers attached.
Chet's fans had not had a close look at Michaiah since Christmas, and she certainly looks like she grew up a lot in the four months that followed.
"If my daughter wasn't born, I don't know if I would've made the change necessary. She saved my life, honestly."
DEVOTED CELEBRITY GRANDPARENTS
Michaiah is the youngest grandchild of 62-year-old Hollywood star Tom Hanks. She is the product of Chet relationship with ex Tiffany Miles.
The "Forest Gump" actor is also grandfather to 8-year-old Olivia and 5-year-old Charlotte, both daughters of Tom's firstborn Colin, 41.
Colin and Chet have shared how great grandparents Tom and his second wife Rita Wilson have been, with Chet revealing that his famous father can't get enough of Michaiah and always offers to babysit her.
"They [Tom and his wife Rita] really love being grandparents. It's awesome seeing them being grandparents as well, because I was really close with my grandparents and now my daughter gets to have the same experience."
-Chet Hanks, Entertainment Tonight, June 26, 2018.
CHET'S DIFFICULT PAST
Chet got himself a reputation as a troubled child in his teenage years, when he became known for his problems with the law and substance abuse.
The actor and musician had been struggling to leave his turbulent years behind for quite some time, but he was lacking the strength he needed to overcome his addictions.
When he learned he was going to become a father he felt it was reason enough to finally take the step and get sober. And Michaiah seems to have arrived just in time for saving her father from hitting bottom.
"If my daughter wasn't born, I don't know if I would've made the change necessary. She saved my life, honestly," Chet recognized.
TOM HANKS' OTHER GRANDCHILDREN
Chet's half-brother Colin, an actor known from his role in Netflix anthology series "Fargo" among others, has also shared details about his Oscar-winning father and his experience as a grandfather.
Colin revealed that his daughters have no idea that their grandfather is a world-famous megastar, and that they always give him a much-needed dose of perspective.
"Children are great humblers. They don't care what you do [or] what you have done. They just want to do their kid stuff," Colin summarized.
Colin and 36-year-old Elizabeth are the children of Tom and his first wife Samantha Lewes, to whom the actor was married from 1978 to 1987.
In 1998, Tom married his second wife Rita Wilson, and the two are still happily together. They have sons Chester and 23-year-old Truman.
Please fill in your e-mail so we can share with you our top stories!