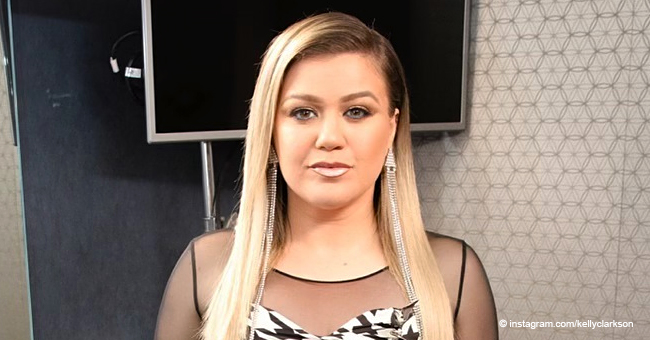 Kelly Clarkson Shows off Her Slimmer Figure Behind-The-Scenes of 'The Voice' (Photos)
Kelly Clarkson unleashed a tide of comments from her fans after posting a photograph of how thin she looks.
Despite the little free time she has left between being a full-time mom, being a coach at Season 16 of "The Voice", presenting her own talk show and being one of the voices of the new movie "Ugly Dolls", Clarkson seems to shine with happiness.
The singer published a photograph on her Instagram account, in which she looks happier and more radiant than ever while wearing a black and white dress that highlighted her figure.
The photograph captured a broad smile that Clarkson sketched in the backstage of the NBC singing contest this April 15.
The first American Idol winner and her style team completed the outfit with a pair of platform black heels and a wraparound bracelet on her left arm. However, what surprised the fans the most was how thin Clarkson looks since her last picture.
Hundreds of fans were quick to comment on how beautiful the singer looked and stressed that she seems to have lost a lot of weight, so the star clarified that she lost 37 pounds last year when making changes to her diet due to an autoimmune disease.
For several months, the singer realized that she had lost about 40 pounds without even going to the gym, thanking Steven Gundry's book, "The paradox of the plant: The hidden dangers in the "healthy" foods that cause diseases and weight gain."
Clarkson explained that although all the advice in the book "worked wonders" for her, losing weight was not really her main goal but that what she really wanted was to help with her autoimmune disease and she did it.
"Here's the best part, either, it's not even the peso, I mean, I know the industry loves that the weight has gone, but I mean that for me it was not really the weight," she shared. "For me it was like I'm not taking my medicine anymore."
Last time we saw Clarkson was at the ACM's red carpet where shined in a chic black lace dress by Alexander McQueen.
Her stylist, Candice Lambert shared, "To me, the gown we chose for the red carpet is pretty much Kelly in a dress. It is her favorite color, it has lace, it's a little rock 'n' roll, a little country, a little pop, strong, and sexy."
Please fill in your e-mail so we can share with you our top stories!