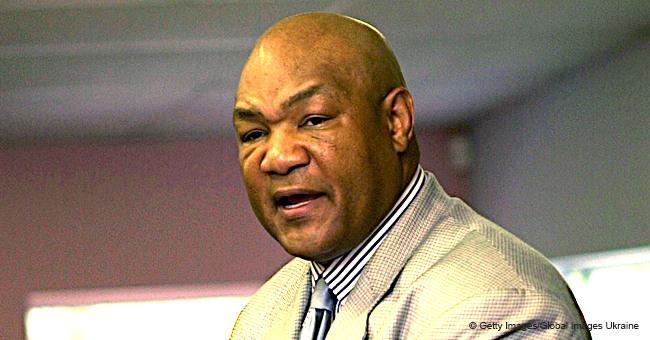 George Foreman's Garage with 40 Cars inside Catches Fire
A fire broke out in the garage of boxing legend George Foreman's Huffman home on Sunday night, causing possible damage to his 40 cars. The fire comes a month after the family experienced a personal tragedy.
According to KHOU, firefighters at the scene found heavy smoke coming from the large garage connected to Foreman's mansion and after a thorough search, discovered that the fire started from a golf cart in the garage.
The Harris County Fire Marshal's Office, per the outlet, said the fire was eventually contained to the garage where there were about 40 vehicles.
It is not clear what happened to the cars as there are conflicting reports. While Fox News claims that there was untold damage to the 40 vehicles, Rachel Moreno, a spokesperson for the Fire Marshal's office, told KTRK:
"Right now it looks like the cars are in pretty good shape. We do have an origin that's towards the back of the garage, but there's a lot of smoke damage and water damage."
There were reportedly people in the mansion when the fire broke out, but they all got out safely, and no one was injured in the fire.
Following the incident, Foreman put out a tweet assuring everyone that he was okay and thanked officials who worked hard to put out the fire.
"I aspire to make a positive difference in our American Criminal Justice System."
"Don't worry all is well. Dogs are barking, and I don't mean my feet," wrote the two-time Heavyweight champion. "Thanks to all the firefighters. Huffman, Houston New Caney. Atascocita. Al [sic] them guy and women."
Last month, Foreman's 42-year-old daughter, Freeda George Foreman, was found dead in her Texas home. According to the Harris County Coroner's Office quoted by TMZ, Freeda died of suicide by hanging.
Freeda followed briefly in her father's footsteps, pursuing a professional boxing career in the 2000s. Her short-lived stint of six fights recorded five wins and one loss. She retired in 2001 to focus on being a mom and other projects, including boxing promotion.
BET reports that a LinkedIn page under her name claims Freeda was studying criminal justice at Sam Houston State, and on her Twitter bio, it reads:
"Aside from my love of family, being a good mother, wife, and friend, I aspire to make a positive difference in our American Criminal Justice System."
Freeda is survived by her husband, two daughters, three grandchildren, her parents, and 11 siblings.
The National Suicide Prevention Lifeline is 1-800-273-8255. Other international suicide helplines can be found at befrienders.org
Please fill in your e-mail so we can share with you our top stories!