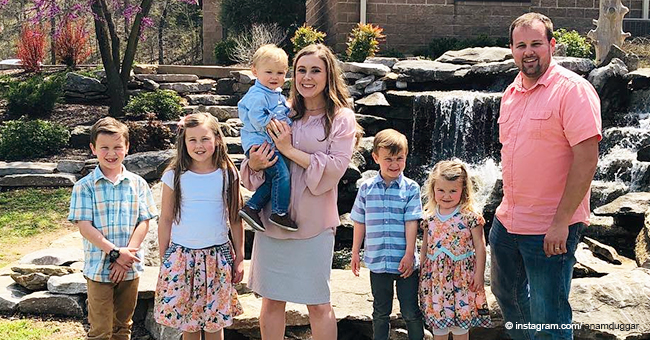 Anna Duggar, Mother-of-5, Looks Unrecognizable after Her Weightloss

The Counting On star debuted her slimmer look alongside her sister, Jana and her incredible transformation had fans do a double take.
When Anna Duggar shared a picture of her and her sister's outing to a vintage market on Monday, she got a lot of shocked reactions.
The TLC star's new look left fans in awe after they saw the results of her previously documented weight loss online.
The mother of five is yet to share exactly how many pounds she shed, and some followers soon became curious after transformation as one asked, "How much weight have you lost total? Didn't recognize you."
Many also thought that Anna looked much younger after she dropped some pounds. "I had to do a double take. You look like you're ten years younger! Not that you're very old, to begin with. Which is probably why, for a split second, I thought you were one of the younger girls," another fan added.
Other Instagram users partially attributed her slimmer figure to all the walking she's been doing as another fan said, "Anna looks like she's slimmed down from all that walking. I should start the 50-mile challenge!"
Her fan referred to a goal Anna set for February. The 21-year-old decided that her "busy mom" excuse left her in the dust of her family and friends' progress on their New Year's goals, so she decided to make and stick to some goals of her own.
On February 2, Anna shared her she had challenged herself to walk 50 miles during the month and invited her followers to join her in the # February50 Challenge.
Exactly a month later, the young mother posted an update wherein she listed a breakdown of the number of miles she walked during February along with a total.
Proudly, Anna did five miles more than what she challenged herself too but also proved to be an inspiration to others as one follower wrote:
"I wanted to tell you that I've walked 69.2 miles since March 6th. (When I got my phone) Thank you for the inspiration, Anna. You are awesome! You are an inspiration for many reasons! Thank you for being you!"
However, the challenge doesn't stop there, as Anna planned on another 50 miles for March and we can't wait for an update!
Walking for fitness has many benefits according to the Vice President of the American College of Sports Medicine's Exercise Is Medicine® global health initiative, Robyn M. Stuhr.
Anything over 150 minutes of exercise of moderate intensity per week can reduce one's risk for stroke, heart attack, and even some types of cancers like bladder, colon, lung, stomach, kidney, and breast cancer.
Apart from that, it can aid in achieving one's weight loss goals and prevent weight gain in adults, plus one spends time outdoors which is great for a vitamin D boost!
In some ways, the Duggars are no ordinary American family when it comes to the values that govern them. One such rule is that none of the children are allowed to go on dates without a chaperone.
While they have other dating rules as well, the Duggars explained the reasons for their traditions and why it is so important to them.
Please fill in your e-mail so we can share with you our top stories!