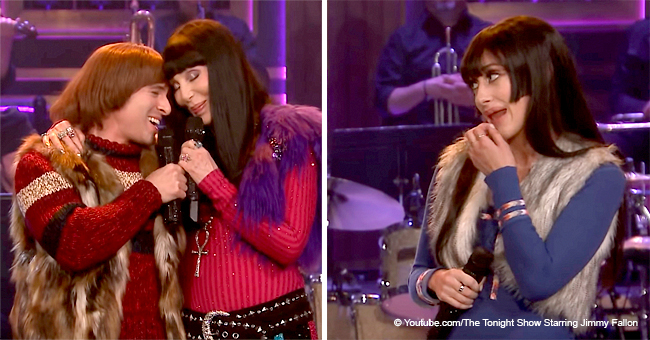 Cher and Cast of Broadway's 'The Cher Show' Sing 'I Got You Babe' for Jimmy Fallon
Cher joined the cast of the Broadway musical "The Cher Show" for a special rendition of "I Got You Babe" on "The Tonight Show."
Cher has done it all as a musician and an actress. The singer has won both the Grammy Awards and an Oscar, and at 72, she is not slowing down; she has a Broadway way show inspired by her life story.
The singer appeared on Jimmy Fallon's "The Tonight Show," joining the cast of "The Cher Show" to sing "I Got You Babe." Marcela Diamond who plays the singer and Jared Spector — Sonny Bono, started the performance. Bono was Cher's husband; he passed away in 1998.
A minute into their performance, the iconic singer replaced Diamond for the rest of the rendition. The singer-actress stunned in a sparkling black ensemble, glittering eye shadows, and wore a red wig.
Fallon informed his audience that the performance is to honor the award-winning singer in light of the Broadway show. He then engaged her in a conversation focused on her current projects and her role in the movie "Mama Mia! Here We Go Again."
The television host informed Cher that he loved how she sang the "ABBA" classic "Fernando" and attempted to mimic her. The singer saw his attempt as terrible and informed the host that no one could make a good impression of her.
The 72-year-old said as much she tries to find herself in the impressions, she can't, but disappointed or not, it didn't stop her from joining Fallon in lip sync karaoke of a bar recording of her song "Believe."
Afterward, the songwriter joined the other actresses that play her on the musical — Stephanie J. Block, Teal Nicks, and Diamond to sing "If I could Turn Back Time." Cher led, while the trio joined her in a harmonized chorus.
The Grammy winner also performed the same song with the cast of the musical during its opening night last December. Block shared a picture post on Instagram showing her embrace with the icon and called it the best day ever.
Cher began her career at a young age. She quit school at age 16 to move to Los Angeles to pursue music. The California native started as a backup singer and worked her way to the top.
The Oscar winner is known for her flashy style and has also won an Emmy. She has recorded 25 studio albums, and in 2018, the singer-actress released an album of "ABBA" songs she covered.
Cher struggles with dyslexia, and she co-produced her musical, and worked with the writer, Rich Elise, to ensure he stayed true to her story.
Please fill in your e-mail so we can share with you our top stories!