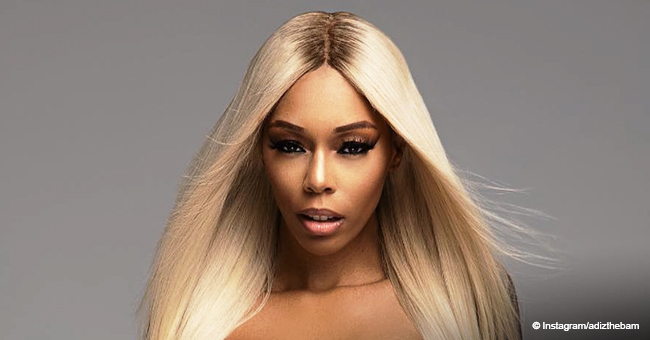 Lil Scrappy's Wife Bambi Flaunts Snapback Body in New Photo
Bambi Benson is a fitness mom, flaunting her toned abdomen in recent pics. The reality star gave birth to her son six months ago, and her snapback has been so impressive that fans are wondering what her secret is.
Adiz Benson, better known as Bambi, welcomed hers and Lil Scrappy's son, Breland, last September.
Although she confessed to fans that her pregnancy wasn't exactly pleasant during the first months, Bambi was glowing with joy in her last trimester. Now, Benson remembers her baby bump days with a new Instagram pic, as she shows off the fantastic change her body has gone through in the past months.
The "Love & Hip Hop" star shared two side to side pics. In both, she's wearing the same outfit, Adidas sports bra, and pants.
However, in the first pic, Bambi had long, brunette hair and a six-month baby bump. In the second, she's sporting short, blonde hair and has a six-month baby in her arms while showing off her toned abdomen.
"#sixmonthsin #sixmonthsout," she simply captioned the post.
FANS' REACTIONS
Fans were quick to fill the comment section with praises for the new mom, with most agreeing she's looking fantastic and others asking her to share the secret to her quick recovery.
"Damn you look like you never had a baby I'm still trying to get my baby weight off, and he's 12 years old now," wrote one fellow mom.
Another asked, "Bam? How did you get your tummy down? my son is six months n I look like he still in me lol share the recipe sis."
And a third one agreed, "Well tell me the secret sus cause my baby 3 and I'm still waiting on my SnapBack I'm starting to think it skipped me."
EVERY MILESTONE IS A CELEBRATION
Bambi and husband Lil Scrappy are enjoying the joys of parenthood without holding back.
Breland has taken front and center on each of their social media accounts, and they are so whipped for the adorable boy that they threw him a 6-months birthday party last month.
The "Baby-Boss" themed celebration was Benson's idea, according to Scrappy, and they went all out for the fun bash. They had a table with different types of sweet treats, including some caramel apples, cupcakes, and donuts, which were aptly decorated to go with the festive theme.
There was also a cake, and a big sign that read "Happy 6 months, Boss Baby Breland."
However, Breland had better plans for his party, as he dozed off on his baby chair despite having some sweet treats in front that he could have munched on.
"Happy 6 months. You are such a blessing. The more you celebrate your blessings, the more blessings you'll receive," Benson captioned a video from the party.
Fans are curious to see what will the couple do to top Breland's six-months celebration in September when he will be turning 1.
Please fill in your e-mail so we can share with you our top stories!