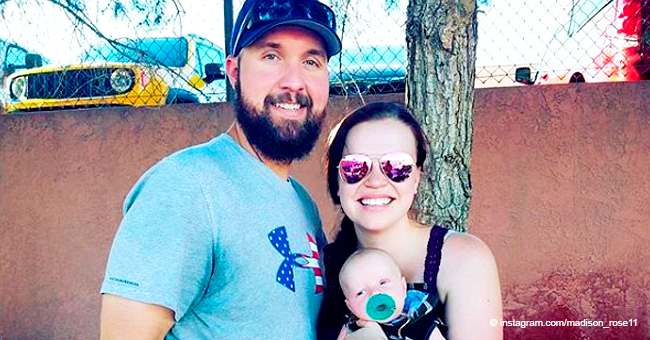 'Sister Wives' Maddie Brown Brush and Husband Caleb Finally Reveal Gender of Their Future Baby
"Sister Wives" star, Maddie Brown Brush, and her husband are super excited about their new baby on the way. The couple who have been a bit anxious about the gender of their second child finally did a gender reveal as they shared the news with their extended family members through Skype.
It was a burst of excitement when Maddie and Caleb set off the traditional confetti which exploded into a cloud of pinks. The young couple could not contain their excitement as they reveled in the news of their baby's gender.
Caleb said, while speaking with PEOPLE:
"I just had it in my head it would be a boy, I made the ultrasound tech check three times, I am really excited and nervous to have a little girl,"
The 23-year-old expectant mother also stated that she was surprised at learning about her baby's gender because she had been indecisive concerning the matter.
She said, while also mentioning that her husband's family are equally thrilled about the new baby:
"I went back and forth so much. I am way excited though."
The reality star's family are not left out as they were all hopped-up about the gender reveal.
Maddie while speaking with PEOPLE, said that her family members had a 50/50 guess on whether the baby would be a girl or a boy. Maddie said:
"My mom was so excited and shocked; she got a little teared up. Something about a girl I guess."
Brush went on to speak about their 2-year-old son, Axel James who is too young to "understand" he was becoming a big brother. She was however certain that little Axel will take the birth of his baby sister well. She said:
"he doesn't really understand yet, so we are sure he will just be happy to have someone to play with."
Maddie added:
"I think once he warms up, he will be really happy to have another sibling."
Maddie Brown and Caleb tied the knot back in 2016, and in May of the following year, the union was blessed with baby Axel James.
Maddie is the daughter of reality stars, Brown and Janelle. Janelle is one of Brown's four wives which include Christine, Meri, and Robyn.
Coupled with the addition to the family, another development occurred as the couple plans to move from their home in Las Vegas to North California due to Caleb's new job.
Please fill in your e-mail so we can share with you our top stories!