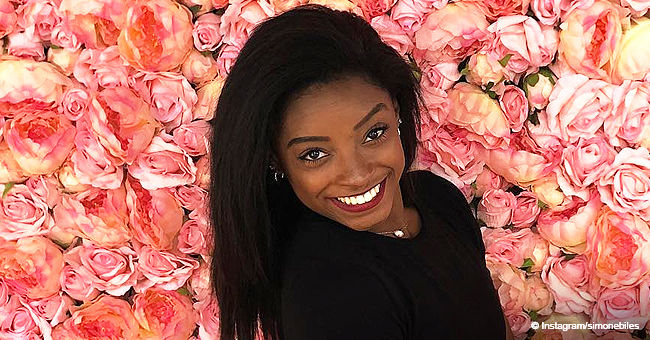 Simone Biles & Boyfriend Flaunt Their Physiques in Matching Swimsuits (Photo)
Four-time Olympic gold medalist Simone Biles is flaunting her toned body alongside her handsome boyfriend, Stacey Ervin, in new swimsuit pics shared on Instagram. Fans often dub the pair as "couple goals," and both are making strides in their careers.
Biles and Ervin, who have been together for almost two years now, have never been shy about flaunting their love for each other all over social media.
They're continually sharing pics of their romantic dates, family reunions, parties and cuddling sessions with their millions of Instagram followers.
One of the most recent pics shared by Biles shows the young couple standing side by side in front of a pool while showing off their incredible physique.
Simone rocked a two-piece yellow bikini that put her toned body on display, and her boyfriend donned matching yellow shorts. They also wore sunglasses and gave the camera big smiles.
"that's right. he's all mine," Biles bragged in the caption.
Fans were quick to fill the comment section with praises for the fitness couple.
"Y'all babies are gonna come out with a six pack," joked one user. Another added, "Never seen a more fit couple lmao y'all look good."
"literally the most attractive couple of all time #goals," said a third one.
THEIR LOVE STORY
Biles and Ervin first started dating in early 2017. At the time, the Olympic medalist confessed to Entertainment Tonight that she had never been in a relationship in her 20 years of life.
"I have never had a boyfriend in my life," she told ET's, Lauren Zima. "At 20 years old I feel like you should have gone through those things and gone on dates. I have been on like, maybe one proper date."
She also revealed that her date had a "good body."
Four months later, in August 2017, Biles made the relationship "Instagram official," the same day she was inducted in the USA Gymnastics Hall of Fame.
Ervin, 24, is a former gymnastic athlete turned professional wrestler. Last year, he signed with World Wrestling Entertainment (WWE), appearing on the NXT brand.
He's also Biles biggest supporter.
Talking to the Olympic Channel at the World Artistic Gymnastics Championships in Doha last November, Biles was asked about Ervin, and she couldn't stop gushing about him, saying:
"I love him to death, and he's one of my biggest supporters as well as my family, and it's really good to have him on my side and understand the sport and the training that we go through and to have such a big outcome."
She also revealed who made the first move.
"I remember telling him that he was cute one year – then I didn't hear from him for a year. But you know they always come back around – it's fine, it's fine," she joked.
At the time Ervin was living in Austin and Biles in Houston. One day, he asked Biles if she knew about any job openings to coach the boys' team, and after talking to her mom, Simone found an opportunity for him.
"When he came down for the job interview we went out for lunch just to catch up, and then we realized there was a spark," Biles added. That's how their fairytale started.
IN THE GOOD AND THE BAD
Ervin was by Biles's side in January 2018 when she revealed through a statement on Twitter, that she was a victim of sexual assault in the hands of former USA Gymnastics physician Larry Nassar.
"Please believe me when I say it was a lot harder to first speak those words out loud than it is now to put them on paper," explained Biles. "There are many reasons that I have been reluctant to share my story, but I now know it is not my fault."
More than 200 young female athletes came forward to accuse Nassar of sexual assault. He was sentenced to 235 years in jail after he was found guilty of abusing athletes under his care for several years.
The 55-year-old was reportedly attacked in prison by another inmate and was injured. His attorney, Jacqueline McCann, revealed that he was attacked just hours after being released to the general population in the United States Penitentiary in Tucson, Arizona.
Meanwhile, Biles is gearing up for the 2020 Olympic games in Tokyo, although she recently revealed she hopes these games to be her last.
"I feel like my body's gone through a lot and it's kind of just falling apart - not that you can actually tell, but I really feel it a lot of the time," she confessed.
Simone is the first quadruple gold medallist in women's gymnastics at a single Games since Romania's Ecaterina Szabo in 1984.
Please fill in your e-mail so we can share with you our top stories!