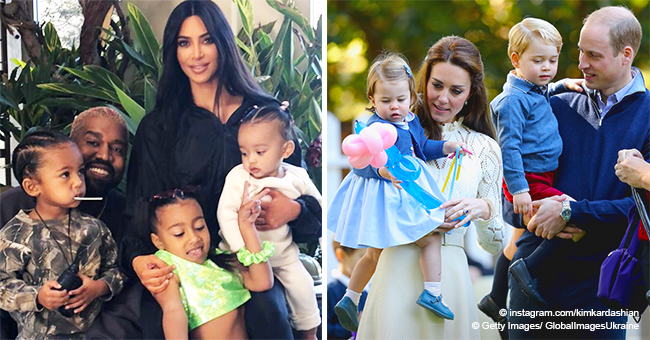 Kim Kardashian and the Royal Family's Kids Have These Things in Common
Where the British Royal family and Kim Kardashian's children are concerned, these two families share more similarities than one might think.
As Kate Middleton rightfully said at the launch of a series of educational films, "Nothing can really prepare you for you the sheer overwhelming experience of what it means to become a mother."
While that rings true for all mothers, there are certain unique correspondences between the Kardashians and the Royals that can't be overlooked.
THEIR CHILDREN
Kim and Kanye have three children, and so does Kate and Prince William. While Kate's youngest, Prince Louis is 11 months old, Kim's daughter Chicago, is only three months older.
The reality star's middle child, Saint had already turned three while Princess Charlotte would be four years old next month.
The Duchess' firstborn, Prince George and Kim's daughter North are now both 5½ years old.
THE BABY GEAR
While a stroller is a must for every mum, these two high profile mothers also seem to share the same taste in baby accessories.
After Chicago's birth, Kim's mum, Kris Jenner bought a few Silver Cross brand strollers from L.A.-based Couture Kids for the occasion. Meanwhile, Kate opted for the $2,700 Balmoral Pram model which she often pushed Charlotte around in during 2015.
PREGNANCY HEALTH ISSUES
Kate Middleton struggled with hyperemesis gravidarum, plainly known as acute morning sickness, during all three her pregnancies.
Kim, on the other hand, suffered from preeclampsia and placenta accreta while she also had the possibility of developing gestational diabetes during both her pregnancies.
DUE DATES
While Meghan Markle's due date has not been made public, fans only know that baby Sussex is expected some times this spring.
The time corresponds with the estimated arrival of Kim and Kanye's fourth child. Due to health difficulties, Kim faced through her first two pregnancies, the couple decided to have their third, and soon to arrive fourth child via surrogate.
However, something both mothers have in common with so many others, are the challenges of balancing work and personal life while being a mother.
Kanye's music makes for busy schedules and long days, and so does Kim's work building her beauty empire along with their reality television show. Because of this, they don't have the most traditional parenting styles. A source told PEOPLE that Kim and Kanye FaceTime the kids when they are not at home and talk to them as much as possible.
The source also added that a big family makes for much help to go around as Kris Jenner, Kourtney, or Corey Gamble often pitch in where needed. The family supports each other," the source added.
While Kim is a successful businesswoman, she decided to pursue another dream amid her busy life. Earlier this year Kim shared that she decided to become a lawyer and hope to make a change for the better while following in her father, Robert Kardashian Sr., who was one of the best lawyers of his time.
Recently, Kim couldn't wait to share the good news as she aced her Torts Exam while working on earning her law degree.
Please fill in your e-mail so we can share with you our top stories!