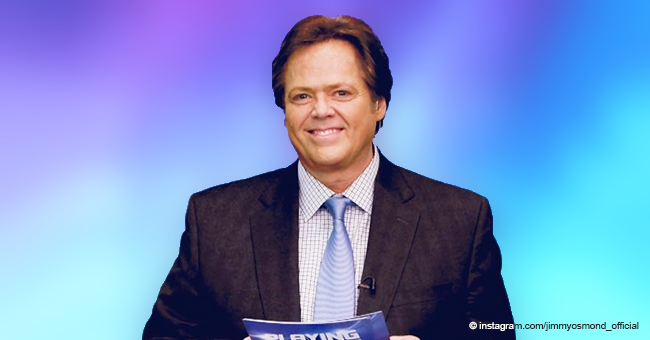 Jimmy Osmond Breaks Silence on Health Condition – He's 'Enjoying Life' after a Stroke
Jimmy Osmond, the youngest Osmond in the family of entertainers, finally spoke up about his health condition at the moment, after surviving a stroke, through an encouraging Instagram post.
A few months ago, Jimmy, the youngest Osmond in the bunch had a major health scare when he was rushed to a hospital due to a stroke.
Jimmy was reportedly performing his role as "Captain Hook" in a "Peter Pan" play in Birmingham, England before the crippling illness hit his system and left him in need of serious medical attention.
Since the tragic event that took place over three months ago, Jimmy didn't address his fans and supporters publicly until a few days ago.
The 56-year-old took to Instagram and shared a post which featured a throwback photo of himself. He captioned his post with the sweetest message ever:
"Thank you for all of the birthday wishes today. I had a great time out with my family. I am enjoying life and this long overdue break."
Jimmy ended his uplifting text with a short thank you message for his fans as regards to his health,
"I am so grateful for my health and for your kindness and prayers."
The entertainer's post received widespread love and attention from his fans and supporters all over the globe. One user commented,
"Great to hear your health is improving. You are in my prayers every day."
Donny (Jimmy's elder brother) also used his Instagram page as a platform to update his fans on his younger brother's health status via an adorable throwback picture. Donny shared the photo on Jimmy's birthday as he honored his younger brother for always being an inspiration.
Donny revealed in the caption of his uplifting post that Jimmy's recovery has been kind of difficult even though he maintains a positive mindset. The musical veteran ended his write up with a charming birthday wish for his younger sibling.
Jimmy has always been the vocal type when it comes to appreciating the effort of friends, family, and even fans. That's why his encouraging post was highly anticipated by everyone.
A few years ago, Jimmy revealed some details about his immediate family and used the opportunity to praise the spirit of love and teamwork that has always been present.
During the session, the veteran performer explained his closeness to his family members, especially his brother Jay. He also mentioned how his father taught the men of the family to treat their wives well and so on.
Jimmy's love for his family and well-wishers has only increased since then, and he stands as a role model to anyone that is looking to balance an intensive career with family life effectively!
Please fill in your e-mail so we can share with you our top stories!